The Dudley Group has amongst the best waiting times for elective treatment in England.
At the end of August 2019, figures from NHS England showed that we had the second best performance in the country against the national Referral to Treatment (RTT) target for waiting times compared to other acute trusts. The standard is for 92% of elective patients to be treated within 18 weeks of referral by a GP.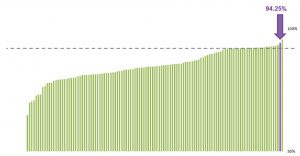 We have consistently met and exceeded this standard over the past months and performed better than other Trusts in Birmingham and the Black Country. We know that waiting times are very important to prospective patients. So why wait longer?
If you are referred to Dudley, 9 out of 10* patients wait up to:
19 weeks for General Surgery
17 weeks for Trauma & Orthopaedics
20weeks for Ophthalmology
16 weeks for Gynaecology
16 weeks for Gastrointestinal
* This figure shows the number of weeks after referral within which 92% (or 9.2 out of ten) of the patients waiting to start treatment had been waiting from referral at the end of the latest reporting period. Waiting times are calculated from aggregate data, rather than patient level data, and therefore are only estimates of the position on average waits. Please note that the actual waiting time may be much shorter or longer. This depends how urgent an individual case is – more urgent cases may need to be seen sooner, and this means if your case is less urgent you may have to wait longer.
For more information, visit https://www.england.nhs.uk/statistics/statistical-work-areas/rtt-waiting-times/