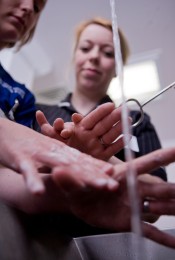 Our staff work hard to keep our hospital clean and reduce the risk of passing on infections to patients. Visitors can do their bit to help cut the spread of infections by following a few simple rules:
if you are unwell and have an illness such as a heavy cold, vomiting and/or diarrhoea, please do not visit the hospital. If you are unsure, please contact the relevant ward to check before you visit
wash your hands with soap and water
clean your hands with the alcohol gel before you enter and when you leave the ward
if the patient you are visiting is in a side room, please check with the nursing staff on the ward before entering to check it is OK to go in
check how many visitors are allowed in at any one time
If you have any concerns or questions about cleanliness or infection control, please speak to the Lead/Nurse-in-charge on the ward or contact the Matron who will be happy to discuss your concerns.
Cleaning your hands is the most effective way of preventing germs being passed from one person to another and it's easy too!
Our hospital wards have alcohol gel dispensers by most beds and at the entrances to all wards for staff and visitors to use to help stop the spread of germs.
Who should wash hands?
All of us – including patients, visitors and staff on a regular basis. It is everybody's responsibility.
When should you wash hands?
Visitors should wash their hands (with soap and water):
after visiting the toilet
before eating/handling food
if their hands are dirty
before visiting a patient and again immediately after leaving the patient
Staff with direct patient contact should wash their hands or use the alcohol gel:
before and after any procedure they perform (such as dressing wounds or adjusting a drip or catheter)
between each patient contact
If a member of staff needs to examine you or perform a procedure, do not be afraid to ask them if they have cleaned their hands. We would encourage you to challenge staff so that they are constantly reminded of the importance of clean hands.
Remember – it's okay to ask.
How should you wash hands?
remove jewellery
wet hands
apply soap and rub together for at least 15 seconds, making sure that all areas of both hands come into contact with the soap
rinse all of the soap off your hands and then dry your hands
apply alcohol gel and rub together for at least 15 seconds making sure all areas of the hands are covered with the gel
You do not need to rinse or dry after using the gel.