Visitors will be welcomed back to all inpatient wards at Russells Hall Hospital from Friday 18th June 2021 in a controlled and COVID-safe way.
An online self-booking system has been set up for visitors to come onto the wards.  One visitor per patient per day will be allowed and they can stay up to 45 minutes.  Visitors will only be able to book the day before, or on the day, they intend to visit.
The online system will record visitor details necessary for Track and Trace. They will need to confirm they do not have symptoms of coronavirus and are not COVID positive. Visitors will be screened again before they can enter the ward including having a temperature check.
Anyone with a positive COVID test result, or showing signs of COVID, must not visit.
To ensure 2m social distancing is maintained, visitor numbers will be limited to a maximum 50 per cent of ward patient numbers at any one time.
Chief nurse Mary Sexton said: "I am really delighted to welcome back visitors to our wards. We know it has been a very difficult time for those unable to see loved ones during their hospital stay.
"During the last 18 months of the pandemic, we have followed national guidance to keep our patients and our staff as safe as possible.
"However, we have always supported compassionate visits in exceptional circumstances, for example when a patient is receiving end of life care."
Visitors will be allowed onto the wards in 45 minute time-slots between 8am and  7pm. All visitors will be required to wear a surgical face mask while they are on our hospital site and maintain good hand hygiene.
You can access the visitor booking link here.
Please note, if the number of cases continues to increase, it may become necessary to suspend visiting again to keep everyone safe.
There will still be exceptions to allow for compassionate visits, for example, visiting patients at the end of their lives receiving care. You are asked to check with the ward staff.
---
How to book to visit a patient
Step 1 – visit www.visiting.dgft.nhs.uk or click here.
Step 2 – click continue

Step 3 – Enter the patient details you wish to visit. You MUST enter all three details correctly otherwise the system will not let you book.

Step 4 – Enter the visitors details and then confirm that the visitor does not show signs of having Covid-19.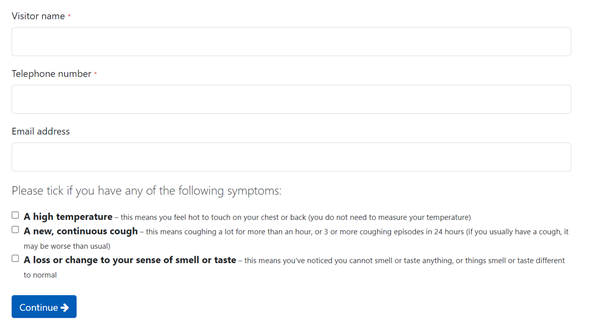 Step 5 – Select the slot to visit. You will only be shown slots which are available.
Step 6 – Your booking will be confirmed.