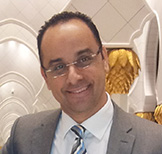 Consultant 01384 456111 (ext. 3524)
Further information
Mr Morsi qualified from Cairo in 1992.  After completing his 2-year MD research in Germany, he undertook specialist training in keyhole (laparoscopic) surgery in northern England.  He received further expert training in the laparoscopic treatment of deep infiltrating endometriosis in some of the leading advanced endometriosis centres  in the UK and in Germany, France, Austria and Iran.  Mr Morsi has been treating patients with endometriosis since he was appointed as a consultant by The Dudley Group NHS Foundation Trust in 2007.  He is a Fellow of the Royal College of Obstetricians and Gynaecologists.  He is passionate about improving care for women with endometriosis and has introduced advanced keyhole excision surgery for deep endometriosis to Russells Hall Hospital.
Mr Morsi has successfully achieved BSGE Accreditation for the Dudley Endometriosis Centre. Mr Morsi is an experienced laparoscopic surgeon who works with the multidisciplinary team to manage women with deep infiltrating endometriosis of the large bowel, small bowel, urinary tract, rectovaginal disease, ovaries, pelvic side wall as well as adenomyosis.  He is also very keen on fertility preserving surgery particularly myomectomy for fibroids.
Mr Morsi specialises in excision of advanced endometriosis, pelvic pain and benign gynaecological conditions.  His experience comes from the hours spent in the operating theatre over the years.  This extensive experience is invaluable to patients with complex endometriosis.
Mr Morsi has published in peer reviewed journals as well as lectured nationally and internationally on endometriosis.  He has successfully delivered many training courses.  Outside of work he enjoys fitness training, travelling and languages.