As part of the NHS 75th birthday celebrations in 2023, we are highlighting stories from staff members who have family ties with each other and celebrating the generations of NHS workers we have at The Dudley Group.
It has been a great chance to hear from staff about why they enjoy working at the Trust, what working alongside their family is like and what being part of the NHS in its 75th year means to them.
Here are some of the stories that have been shared so far.
Kim Bradley and Carole Hickman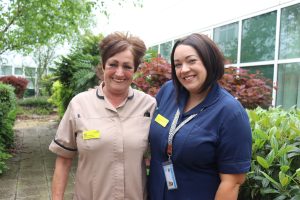 In May 2023, we said a fond farewell to maternity support worker Carole Hickman, who worked at the Trust for 34 years. Carole started off as a domestic cleaner on the neonatal unit at Wordsley Hospital and then became a maternity support worker, which is a role she had for 24 years before her retirement. Over 400 people commented on a Facebook post about her last day at the Trust, which should give you an idea of all the families that Carole has helped over those years.
Her daughter, Kim Bradley, followed in her mother's footsteps in the Maternity Department 18 years ago. She first joined the Trust as a student midwife and is now a lead midwife for clinical transformation. Kim said, "I was inspired to join the NHS by my mum! We are both very similar, we love people and caring for others. Mum always loved her job and had great colleagues that became friends. She helped me arrange my work experience and I've never looked back!"
Carole joined for a similar reason, as she always wanted to care for and help people, and the role suited her when she had a young family. She has enjoyed working with her daughter, saying, "It's been nice to have someone who understands how hard work is sometimes and who can empathise. We have shared lots of experiences over the years."
Kim's experience of working alongside her mum in the Trust has been just as positive. She said, "Supporting women to deliver their babies into the world with my mum by my side has been a magical experience. Being able to reflect on work, good, bad and ugly with someone who really gets it! To support each other after bad days and share the great stories too!"
After 34 years, Carole reflects on her time in the NHS happily. "I am proud to have worked for the NHS for over half my life. I have given blood, sweat and tears to helping others, patients and colleagues and I hope others continue to serve the local community the way I have after my retirement."
As for the NHS turning 75, Kim said "I love working in my local community helping to shape services that benefit my friends and family. I hope the NHS can continue the amazing work it does for many years to come."
Adam and Josh Moseley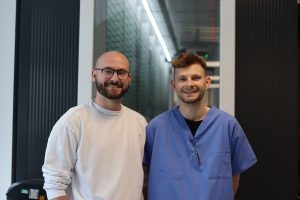 Adam Moseley, senior pharmacy technician, joined the Trust six and a half years ago from Queen Elizabeth Hospital and now works within the chemotherapy electronic prescribing team.He started out in the NHS after a nudge from his mother. He said, "I left college not really knowing what I wanted to do and my mom made me apply for a job as a student pharmacy technician and I haven't looked back since".
His younger brother Josh is a pharmacy technician in the Emergency Department and has been at the Trust for just over six years now. He admits he may have copied his older brother slightly after seeing how much Adam enjoyed working within pharmacy.
Adam doesn't seem to mind too much that his brother has followed in his footsteps. He said, "I enjoy having a member of the team that I know I can rely on as Josh is very capable in his role. It's good being able to 'report' him to our mom if he steps out of line too. We don't see each other too much as we work in very separate areas of Pharmacy, but I always have time to meet him for a coffee."
Josh agrees, saying, "Honestly, it's just really nice having someone who I can go for a coffee with. The NHS is stressful and its nice having someone who has your back and looks after you like a brother, because well, he is my brother."
Josh would recommend working with your family members if you're close to them, which these two brothers are. "Adam and myself have been very close since I was born and would very likely be close friends without the blood connection. I also work with my fiancé who is a pharmacist in the Trust and Adam's fiancé who is a pharmacy technician is imminently going to be starting with us. At this rate we're taking over the Pharmacy Department."
Adam has wished the NHS a happy birthday and said, "The NHS is a brilliant institution and is something we should all be publicly proud of."
Josh echoes the sentiment. "Well first off happy birthday to the NHS. I honestly feel truly privileged to work for the NHS. The kindness, knowledge, skill and work ethic I've seen throughout my 12 years in the NHS is unrivalled, you truly see the very best of people here. Everyday I'm blown away with the care delivered by my colleagues in pharmacy and the multi-disciplinary team at ward level. Every member of the NHS is amazing."
Jodie Pearson and Hayley Jaynes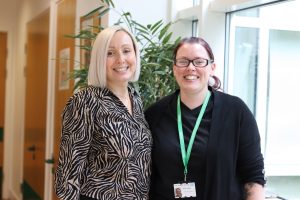 Jodie Pearson, vascular and abdominal wall reconstruction multidisciplinary team co-ordinator and clinical service lead admin support, has worked for The Dudley Group for 13 years. She remembers going to her GP practice when she was around 11 years old, seeing the receptionists and telling her mum that's what she wanted to do when she was older. Jodie made her aspirations a reality when she was at college, working part-time at a GP practice for around a year. She went on to Birmingham Children's Hospital, working as a medical secretary, before coming to Russells Hall Hospital.
Her younger sister Hayley Jaynes, oncology support secretary, started out as a volunteer and has worked for the NHS for around 10 years. It was her mum Kim Homer, who was also at the Trust at the time, who helped her. "My mom supported me in getting a job in the NHS and during my time working here," Hayley said. "It was quite scary at first, it's a busy environment and she would always explain things to me and give guidance."
Their mother Kim was a Macmillan specialist nurse at the Trust and retired in July 2022. She had a lifelong ambition of being a nurse, and achieved her dream when she started her nursing training in her early 40s. Both of her daughters attended her graduation ceremony. Kim said, "I'm very proud watching my hard-working daughters progress in their different roles." Her daughters are very proud of her too, with Hayley saying, "When my mom retired, she said she felt she had lost her title, but not to me. I always tell people that my mom is a Macmillan lung cancer nurse specialist. She worked extremely hard to get to where she was and helped and supported so many families."
Working with each other in the Trust has given them the chance to network within different departments and get to know more people around the hospital. But it has also helped them to support one another in difficult times, including during the pandemic. Hayley said, "Being able to see them, especially during COVID when we lost our dad suddenly, we were able to support each other during a difficult time."
"Honestly, it's just nice knowing that your family are close by. The NHS is a very busy environment and can be hard at times and sometimes you just need your family."
Jodie said it's amazing that we have had 75 years of the NHS. "I am very proud to say that I am a part of the NHS and try to help people as best as I can.