Our charity is not about providing healthcare, charitable donations we receive enable us to provide comfort and facilities above and beyond those provided by the NHS. Enhancing a person's visit to us can make all the difference to their well-being, improving both their recovery and overall experience.
We want you to be confident that your donation will go where you want it to go.
The Dudley Group NHS Charity is an umbrella charity which looks after the charitable funds of all the wards and departments.  Our Registered Charity Number is 1056979.  Once your donation goes into the main charity account it will be directed immediately to your designated ward or department charity fund.  They get regular notifications of donations and the funds are spent by matrons and senior members of staff on the unit.  They are extremely grateful for charity donations and will always endeavour to spend them wisely.
How you can get involved
5k Superhero Fun Run!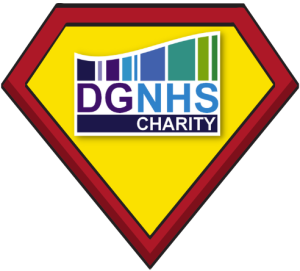 Join us this Autumn on 2nd October at 11am to celebrate all the hard work of our superhero colleagues across The Dudley Group NHS Foundation Trust by taking part in our 5k Superhero Fun Run!​ Everyone who takes part on this day will also be running alongside our Team Dudley Virtual Marathon runners who will be joining us at the start line! The location of the run is at Himley Hall & Park where the route will take you through the grounds so that you can enjoy the beautiful scenery while raising money for our Trust's charity.
All proceeds from the event will go to our Thank You Appeal which supports the physical and emotional wellbeing of our staff and patients following the difficult few years we have faced due to the COVID-19 pandemic however, if you would instead like to raise money for ward or department of your choice you are more than welcome to do so. We welcome people of all abilities to join us as you are free to either run or walk the event. This event is open to the public and staff. We kindly ask that all participants try and raise a minimum suggested sponsorship amount of £20. If you would like more information regarding the event, please get in touch at dgft.fundraising@nhs.net​
Thank you so much for all your support and we hope to see some amazing superhero costumes on 2nd October!
Thank you Appeal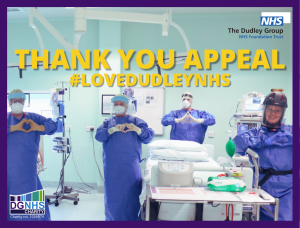 Please get behind us to help our charity focus on making sure we support the physical and emotional wellbeing of staff throughout this difficult time as they continue to work hard to serve our communities. If you would like to make a
one off donation
or
set up your own fundraising page
please go to:
https://www.justgiving.com/campaign/NHSThankYou 
CONTACT US
MAKING A DONATION
General Office.   Tel: 01384 456111 ext: 2872.  email: dgft.general.office@nhs.net
FUNDRAISING
Fundraising Office.   Tel: 01384 456111 ext: 3349 email: dgft.fundraising@nhs.net
CHEQUE PRESENTATIONS
Communications.   Tel: 01384 244403.  email: dgft.fundraising@nhs.net
CHARITY FUND ENQUIRIES
Finance Office.   Tel: 01384 321121. dgft.charityfinance@nhs.net 
Alternatively you can access further information from our website:
OUR  CHARITY  APPEALS
Cancer – Caring for the Patient and their Family
Dealing with cancer, for both the patient and their family, can be very distressing. It is vital that our charity adds as much comfort and care as possible.  More information.
Children – Making it better for our younger patients
Hospitals can be a scary place, especially for children.  Our charity endeavours to ease the experience of the children in our hospital, and their families, by providing a comfortable, reassuring base for their care and treatment.  More information. 
Dementia – Moving forward with dignity and respect
A person with dementia needs to feel respected and valued for who they are now, as well as for who they were in the past. There are so many things that we can do to help.  We aim to raise awareness as well as funds.    More information.
Baby Bereavement Campaign
Please support those affected by the death of a baby at Russells Hall Hospital. Click here for more information about the appeal and how you can get involved.  You can also make a donation on JustGiving by clicking here.