Your stories and pictures
Thomas Ice's donation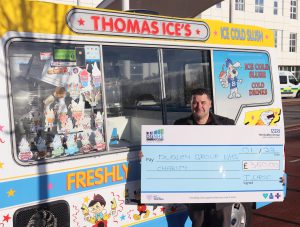 Thomas Urso, local ice cream man and owner of Thomas Ice's, very kindly donated £350 to our charity after providing hundreds of ice creams to our staff throughout the heat of the summer.
​Sandra Rowe and Carol Mills Halloween Fundraising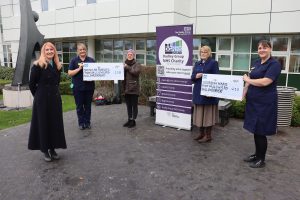 Two women have donated £500 to their local hospital charity after raising the cash by getting into the Halloween 'spirit'.
Sandra Rowe and Carol Mills raised the money for The Dudley Group NHS Charity, with £250 going to the Georgina Unit cancer ward at Russells Hall Hospital, and £250 donated to the Palliative Care team.
The friends decorated their front gardens in the spookiest Halloween decorations, as well as dressing up in some fantastic costumes, and spent the evenings of Saturday 30th and Sunday 31st October collecting donations from passers-by and handing out sweets to trick-or-treating children.
Carol and Sandra have many years of fundraising experience, and this year decided to focus their efforts on raising money for their local hospital charity after sadly losing family and friends to cancer.
Sandra was joined on one of the evenings by Councillor Judy Foster, who has been supporting the women's fundraising efforts. Councillor Foster said: "I was with Sandra on the Saturday for a couple of hours and saw at least 100 people stop and donate."
Following the successful fundraiser, Carol, Sandra, and Councillor Foster presented two cheques outside Russells Hall Hospital to Lead Nurse on the Georgina Unit, Claire Higgins, and Specialist Nurse from Palliative Care, Sadie Tighe.
Fundraising and Community Lead Nithee Kotecha from The Dudley Group NHS Charity said: "Local fundraisers like Carol and Sandra are crucial to our charity, and without their donations we would not be able to provide enhanced patient care and staff wellbeing."​
Godfrey Mansell & Co Fundraising Quiz Night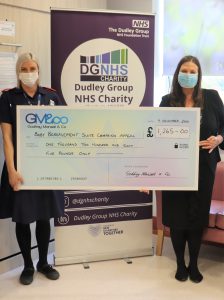 A Halesowen accountancy firm has raised £1,265 for a hospital charity's baby bereavement campaign, to improve the environment in which families spend time adjusting to the death of their baby.
Godfrey Mansell & Co-organised a fundraising quiz which gathered their clients, employees, and families, in aid of The Dudley Group NHS Charity's campaign.
Launched in 2018, the campaign has so far helped to create a baby bereavement suite in the maternity department at Russells Hall Hospital. It has also offered maternity staff specialist bereavement care training to ensure families are given high quality, sensitive support, as well as providing bereaved parents with the choice to have keepsakes and photographs.
The charity is now looking to create a second suite, and the money raised by Godfrey Mansell & Co will go towards this.
Maternity matron Claire Macdiarmid said: "I have been a midwife for 15 years and during that time, I have met many families that have suffered the unthinkable tragedy of losing a baby. I truly appreciated the need for improved bereavement facilities for the families of Dudley."
The Trust's specialist bereavement midwife Holly Haden added: "The suite is making a massive difference. It provides families with a space that isn't clinical, and soundproofing is so important to remove background noise.
"The room has an en suite, kitchenette facilities and a double bed, with partners being encouraged to stay. Families can use the suite for as long as they need to, which is why we want to create a second suite. We know that this space is invaluable to families from the feedback we receive."
Mark Twinberrow, partner at Godfrey Mansell & Co, said: "As a local hospital and charitable cause close to our hearts, we really wanted to support the meticulous work of Claire, Holly and the team, especially in light of the COVID-19 pandemic.
"Their dedication and thoughtfulness have transpired in the invention and creation of the bereavement suite, with focus on sensitivity to those needs of the local families. With continued investment in resources and a second bereavement suite, we aim as a business in the community to help raise exposure as to the work of the charity and to continue with our fundraising activities in the years to come."
Virtual London Marathon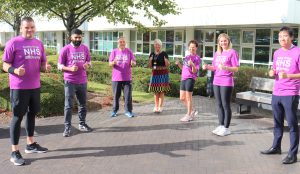 We are delighted that five members of our staff – Matthew Welch, Rajeev Kumar, Sue Hammond, Claire MacDiarmid, Andrew Lee – and former Dudley Mayor Steve Waltho,  ran the virtual London marathon for our charity this year and raised more than £11,000 between them – smashing their target of £3,000!
Beaverbrook Donation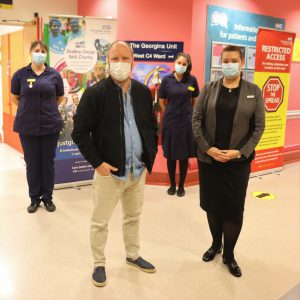 The Dudley Group NHS Charity would like to thank The Beaverbrook Charitable Trust on behalf of the Merry Hill Branch of Beaverbrook the Jewellers for their recent donation of £1,100 towards our Russells Hall Hospital C4 Georgina Ward. The ward consists of oncology, haematology and rheumatology patients, there are custom-built isolation rooms along with a private relative's room with overnight facilities available. The Georgina Unit also offers a space for day cases which has a fully equipped clinical area where systemic anti-cancer therapies (SACT) are given.
Chelsea Wood and Paul Walker sales associates from Beaverbrook Merry Hill visited the ward last week and met with lead nurses Indy Kaur and Claire Higgins from the ward – see attached photo. The funding provided by Beaverbrook Charitable Trust will help to enhance the care and experience of the cancer patients at the trust and support the ward staff's health and wellbeing initiatives.  ​