Your stories and pictures

We have been overwhelmed by the generosity of the nation during the pandemic.  People, locally and nationally, have been raising thousands of pounds to recognise the commitment and hard work of NHS staff.  Staff at the Dudley Group have been so grateful for everything that has been done to show support.
Here are just a few examples of where the donations have come from, and where they are being spent.  We still need your support and if you can, please make a donation to our Covid-19 Crisis Fund:  www.justgiving.com/campaign/NHSThankYou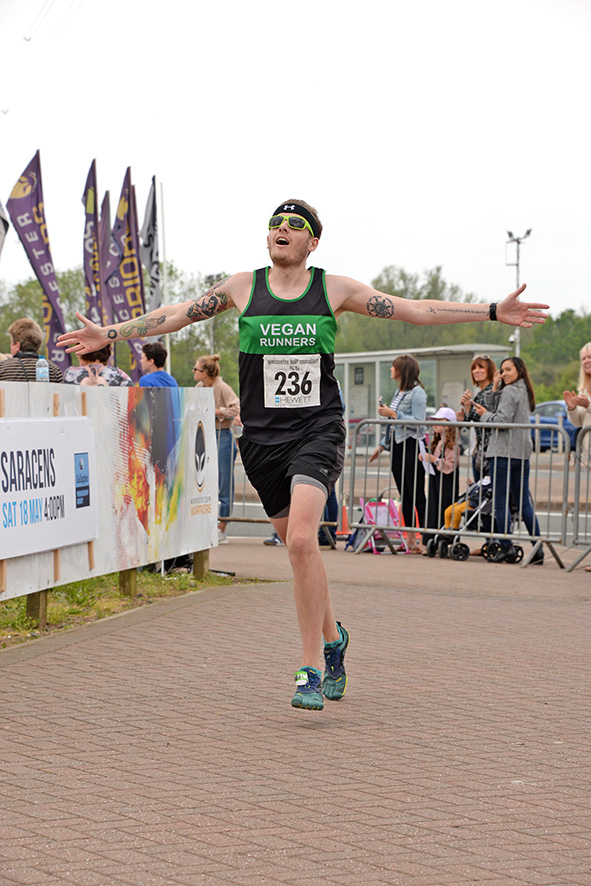 Thomas Budgen – https://www.justgiving.com/fundraising/thomas-budgen3
Local primary school teacher Tom Budgen decided to put his marathon training to good use during the pandemic with his 'run-around-the-block-athon' and raised over £1,600 for our Covid Crisis Appeal. In Tom's words 'Our NHS staff are heroes and are putting themselves on the front line to protect us all. If they can do that, I'm pretty sure I can run around the block a few times.'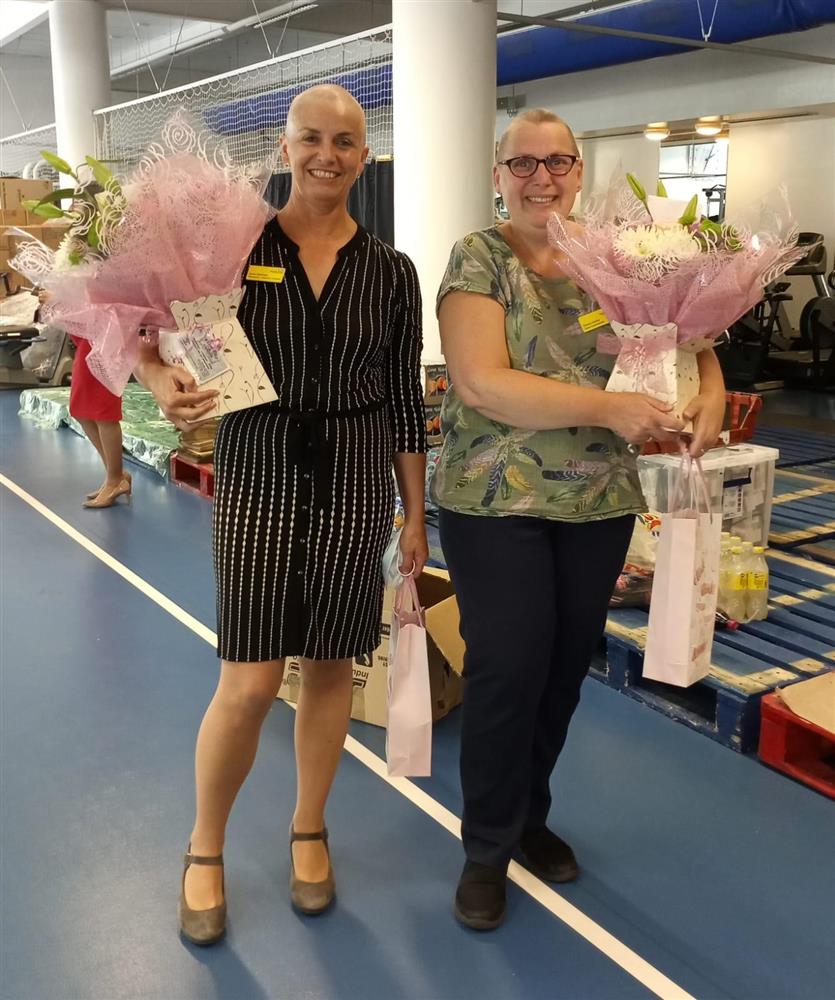 Anne Mannion and Emma Dobbs – justgiving.com/fundraising/dudleybsu
Consultant radiographer Anne Mannion (pictured left) and clinical superintendent Emma Dobbs (pictured right) from our Breast Imaging Department braved the shave and raised more than £2,000 for their department. Well done to the 'life shaving' duo for their fantastic fundraising efforts.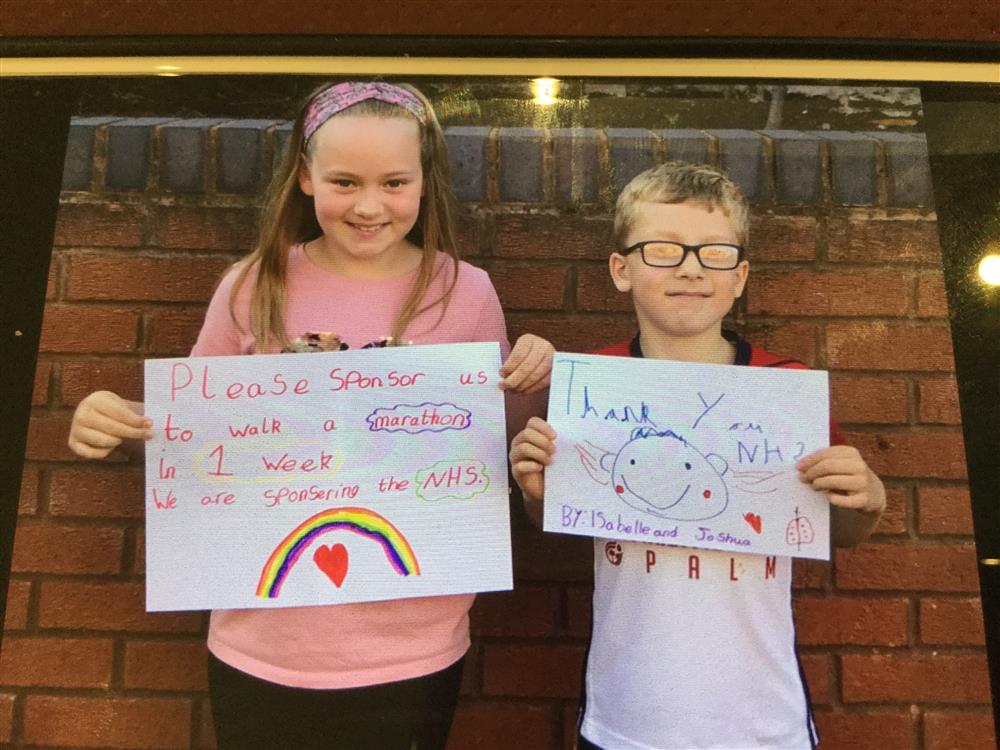 Isabelle and Joshua – https://www.justgiving.com/fundraising/emma-garland5
During the pandemic two of our young fundraisers Isabelle and Joshua walked a marathon a week for our Covid Crisis Appeal. Between them they raised over £1,200 and walked up to 10 miles. The wonderful duo even made it into the Express & Star news here.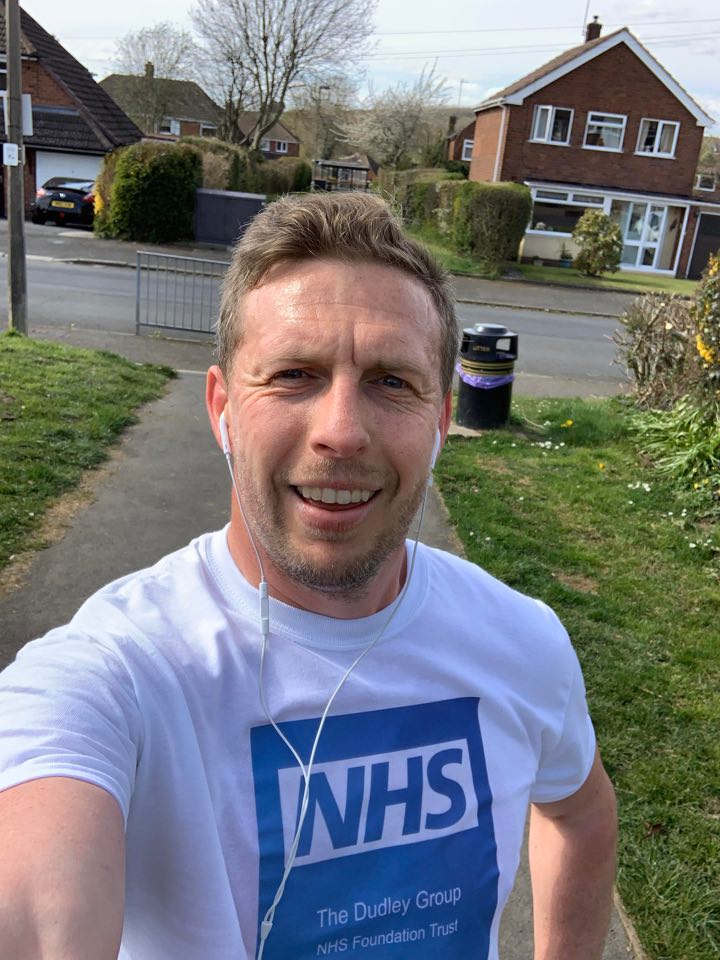 Matt Shilvock – https://www.justgiving.com/fundraising/matthew-william-shilvock1
Throughout May a dedicated fundraiser named Matt Shilvock ran 10k a day for 50 days. Matt posted all his progress to his fundraising page and raised a staggering £2,000 for our Covid Crisis Appeal.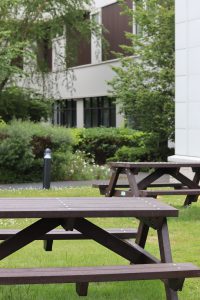 New picnic tables
Hard-working healthcare staff can now get a socially-distanced break in the sunshine thanks to the generous donations of local people.
Thousands of pounds has been given to The Dudley Group NHS Charity during the coronavirus pandemic, to be used for staff welfare.
And after asking the 5,000 strong workforce how they would like to see it spent, one of the first things the Trust has done is to install more picnic tables so staff can take a break or eat lunch in the fresh air.
The 17 new tables and benches have been placed in the grounds of Russells Hall Hospital and also at the Trust's health records offices. The health records staff, who are located off site, are responsible for organising, updating and storing patients' records.
The Trust's chief executive, Diane Wake, said: "People of all ages have been fundraising to show their support for our NHS and we are extremely grateful to our local community who have supported us in this way.
"Ideas have been flooding in from our staff. With social distancing limiting where we can go on our breaks, we wanted to act quickly and provide these picnic tables so everyone could make the most of the good weather. This is just the first project, though, and we'll keep looking at how best to ensure people's generosity is put to good use."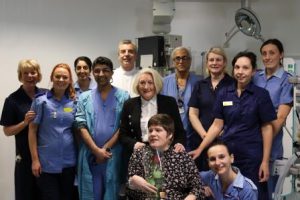 Grateful family says thank you to Critical Care
Abbie Hingley and her family were welcomed to our critical care unit in February 2020 when they donated three smart TVs to the unit. Abbie was previously a patient on the critical care unit for five months, she says she received excellent care from staff and wanted to show her appreciation.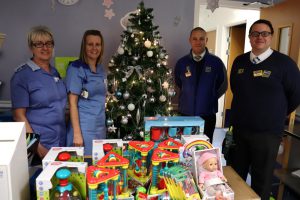 Selco donates toys to Children's Outpatients Department
A West Midlands building warehouse company named Selco donated a collection of toys to the Children's Outpatients Department! They were welcomed into the ward by children and staff whilst bringing the toys in. If you would like to check out Selco please visit: https://www.selcobw.com/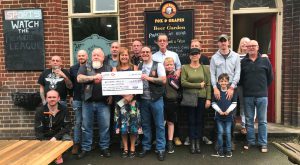 Fox and Grapes donates £3,372 to Neonatal Unit
The Fox and Grapes pub in Pensnett raised the fantastic sum of £3,372 for our neonatal unit! Staff and customers have chipped in over the past few months to support this fantastic unit. The happy bunch are pictured presenting the cheque to Lindsay Eskins-Round from Neonatal.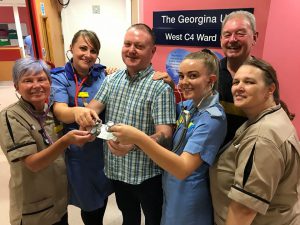 Carl Bottley 'Mr Charity' donates £2,700 for Georgina Unit 
Carl Bottley was welcomed back to Russells Hall Hospital where he presented a cheque for £2,700 to the Georgina Cancer Care Unit. Carl, affectionately known by friends as 'Mr Charity' has been fundraising for the hospital for a number of years. 2019 events  were in memory of Christine Bowen who was cared for on the unit.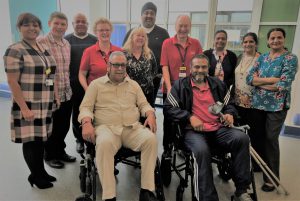 Aashina Charity donates two wheelchairs 
Members of the Aashiana Charity visited Russells Hall Hospital to donate two wheelchairs to the Trust volunteer wayfinders. The generous group also donated £500 to the Children's Emergency Department Appeal.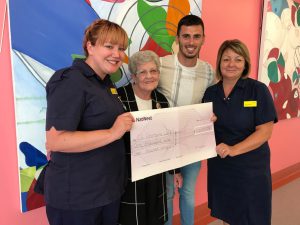 Patricia Bodin donates £1,010 to Georgina Unit 
Mrs Patricia Bodin and her family donated £1,010 to the Georgina Cancer Care Unit. The family wanted to show their appreciation for the wonderful care given to Patricia's husband, Tony. They met up with lead nurses Jackie Waldron and Jade Norton who received the donation.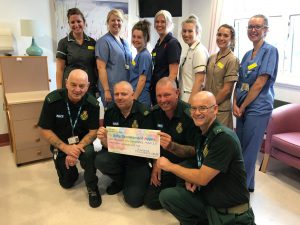 'Brave the shave' colleagues welcomed on the Baby Bereavement Suite 
West Midlands Ambulance Service staff known as Officialwmas 'brave the shave' colleagues were welcomed to the Baby Bereavement Suite to see where their fundraising will be spent. Mick Clee, Dave Porter, Blake Soley and Phil Baxter all had their heads shaved in front of colleagues and surprised hospital visitors in July for the Trust charity. They have raised an amazing £1,920 so far and staff on the unit were more than happy to tell them about the big difference their fundraising will make.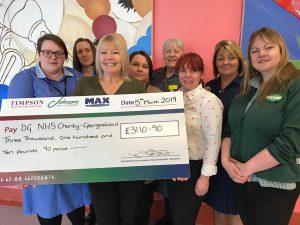 Kay and Shelley donate over £3,000 to Georgina Unit 
Staff from our Georgina Cancer Care Unit welcomed Kay and Shelley from Johnsons Cleaners and Timpsons (Stourbridge, Area 62) who presented a donation of over £3,000. Kay Lanchbury nominated the unit in recognition of the excellent treatment she received in 2014. Kay said: "I cannot express how wonderful the staff were. I was so scared and bewildered, and the awesome team kept me going."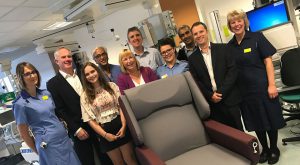 Anita Towns visits critical care to see 'in memory' rehabilitation chair
Anita Towns visited our Critical Care Unit in 2017 to see their reclining rehabilitation chair. The chair was purchased thanks to donations in memory of Anita's husband Craig Towns who was cared for on the unit.
The specialist chair has allowed for patients to sit in comfort somewhere other than their bed.
She was accompanied by her daughter Rebecca and some of Craig's colleagues from  National Grid who also contributed to the donation.