Self-care:

Cough
Sore Throat
Headache
NHS111:
Urgent medical problem, not sure what to do?
Get help online or on the phone.
Pharmacist:
Cold
Diarrhoea and vomiting
Aches and pains
GP:
Illness and injuries that won't go away
NHS Walk in Service / Urgent Treatment Centre:
Urgent medical attention, that is not life-threatening
A&E / 999:
Life threatening emergencies. If you're not sure what to do contact NHS 111.
---
Pharmacies
Pharmacies are highly trained experts in medicines, offering advice on the best medication or treatments for a wide range of common health problems such as coughs, colds, sore throats, tummy trouble and aches and pains.
Many pharmacies offer seven-day opening and late hours, meaning that they're the perfect place for busy people to get help and advice.
They work closely with NHS doctors and nurses to provide people with a range of services without the need for an appointment, including:
Advice and treatment for minor illnesses
Advice on staying well and preventing disease
Support to maintain good sexual health
Help to quit smoking
Personalised support to get the most from your medicines.
Patients registered with GP practices in the Black Country and West Birmingham can also make use of the Pharmacy First Service. This service provides people who are exempt from prescription charges with over-the-counter medicines rather than you needing to see a GP to receive the medication on a free prescription.
To find your local pharmacy visit nhs.uk/find-a-pharmacy 
---
Just think 111 first
When you think you need A&E, call NHS 111 or visit www.111.nhs.uk.
---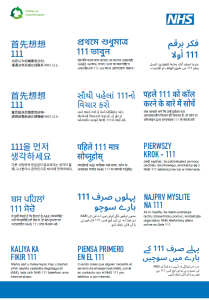 NHS 111 leaflet
Click here to view the NHS 111 leaflet, which includes alternative languages.