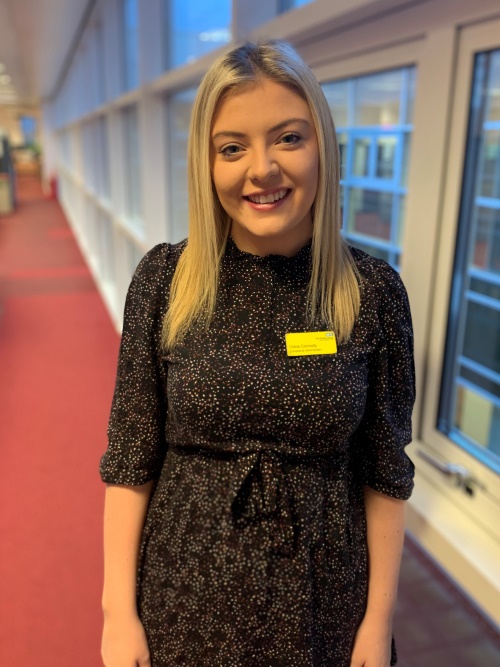 Chloe Connolly
Complaints Co-ordinator
Started as an Apprentice Administrator in 2017
I joined the Trust in February 2017 as an apprentice within the patient experience team. I provided administrative support to the Patient and Governor Engagement Lead and the Patient Advice and Liaison Service which helped build my confidence in speaking with sometimes concerned and upset people over the phone. I provided advice to patients, relatives or their carers in respect of any concerns they have and respond to enquiries made by telephone and email.
In November 2017, I started providing administrative support to the complaints team. During this time, I further developed my communication skills as well as my organisational skills as I was assisting in arranging meetings with patients. I have gained so much knowledge and confidence when it comes to dealing with people and about how the NHS works.
I finished my Level 3 Business Administration apprenticeship in February 2018 and gained a substantive role within the team. I quickly enrolled on a level 4 diploma in business and administration course which I completed in November 2019. I am currently completing a Chartered Management Degree Apprenticeship, which I feel is helping to broaden my knowledge and skills and ultimately benefitting my work.
In February 2020, I was successful in securing another role within the complaints team, in which I now facilitate complaints meetings and manage my own caseload of complaints.
---
Matthew Potts
Cancer MDT & Data Assistant
Started as an Apprentice Administrator in 2017
I started my apprenticeship within the NHS after deciding I needed a new career path. I gained some valuable skills within my previous work experience but wanted to develop new skills to enable me to gain a route into a new career in admin within the NHS. I settled into the team to begin with and found all staff to be an excellent source of support. The environment I was in opened me up to a vast range of opportunities to develop myself, in many areas, including data management, organisation, as well as exposure to recruitment and interviewing skills. The Apprenticeship route really suited me, and I was pleased to be able to gain a nationally recognised qualification whilst gaining the necessary experience to lead me into a permanent role.
Following the success of my Level 2 completion, I immediately applied for the Level 3 Business Admin NVQ. I was able to apply a lot of my knowledge from the level 2 to be able to complete all the workbooks assigned to me whilst being able to learn new aspects of the course. During the course I had to perform a Project in which could be applied to my line of work in which would benefit the Trust in a positive way. I decided to try and improve certain aspects of a patients' experience when attending the hospital, to try and combat the growing number of people not attending their clinic appointments. Working with my office based team I was able to gather data which then could be shown in higher manager meeting to help them improve the service.
At the latter end of the NVQ course I was able to gain a higher position role within the hospital. Moving from a Band 2 Admin Support in one office to a Band 3 Cancer MDT Data Assistant, this provided a fresh new role to be able to apply my skills and knowledge that I gained through the Level 3 NVQ. Within my new role I was supported by the new team to complete the course and I was able to gain a distinction grade in Business Administration Level 3.
Soon after I took a rest from courses and concentrated on being more efficient in my new role, I then was offered to take on a Level 4 Business Admin course in which I am currently doing.
---
Jade Tromans
Student Pharmacy Technician
Started as a Pharmacy Apprentice in 2018
I'm part of the pharmacy department and day to day my job role varies but in a nutshell I can be on the wards doing their stock orders, in the dispensary labelling and assembling prescriptions for patients and working on reception answering calls and taking in prescriptions for patients and ward staff, or in the stores area picking stock for wards and receiving medicine deliveries.
I started my Level 2 apprenticeship in Pharmacy service skills and Pharmaceutical science in October 2018. I have also recently started my Level 3 apprenticeship (Level 3 Diploma in the Principles and Practice for Pharmacy Technicians) which is a two-year course.
My experience so far has been a positive one overall, the staff across the Trust are friendly and the pharmacy department is like a family, everyone is willing to work as part of a team to deliver the best care for our service users. Of course sometimes working in a busy Trust can be challenging and balancing a full time job and college work is sometimes tricky, but manageable. I get a lot of support from my college assessors and line manager to make sure I'm on top of everything. My college assessors go above and beyond to make sure the work they set out is manageable, clear, and the online zoom lessons (obviously due to Covid) have been a great success so far.
I chose to do an apprenticeship because I wanted to start a career I could be proud of, I feel coming to the Trust and doing these courses I can confidently say I am proud of what I do, additionally, the skills I have gained are plenty – my work ethic has improved, my communication skills too which are vital for working in a pharmacy/hospital environment  to name a few. I have learned that I have a "can-do" attitude and I'm good at boosting team morale when things may be stressful and that I work well under pressure. My future aspirations are to complete my Level 3 course and then hopefully once I'm a qualified pharmacy technician, have a successful application for a Band 4 Pharmacy Technician role within the Trust.
---
Ellie Beardsmore
Support Secretary – Trauma & Orthopaedics
Started as an Apprentice Administrator in 2019
I started a Business & Administration Apprenticeship (Level 3) in September of 2019, within the Trauma and Orthopaedics Department at Russells Hall Hospital. The programme enabled me to grow as in individual, learn new skills and gain responsibility. The variation of the occupation encouraged opportunity within the department and gave me a chance to develop myself, given learning skills that I had not been required to withhold before. Just some positive experiences I have enrolled in are; organising an away day for the department, working as a team leader in projects to enable growth and change within the department to find more efficient ways of working and taking part in training to encourage new learning and new skills as an individual. Fortunately, I have been able to work within different aspects of the department clinically and non-clinically across three different sites at the Dudley Group. While gaining these wonderful experiences on the job, I undertook the business and administration course with Walsall College, with which I had a great experience. Throughout the course I felt massively supported by my college tutor, with whom I had a virtual meeting with every two weeks, and my work mentor who worked very closely with myself and my college tutor. I finished my college course in just over a year, with the full support of my college and work tutors.
I gained and developed many skills throughout my apprenticeship. Communication, IT skills and adaptation are just some of the skills I have worked on and developed throughout the apprenticeship. During my apprenticeship and working across the three sites at the Dudley Group, I have had to communicate, adapt and use IT skills with all aspects of colleagues, patients and the wider community (for example GP practices). Although I developed many skills, I also gained new skills that I worked on throughout the duration of the course. Just one of the new skills I gained was training to be a loggist for the Trust. I have been given many opportunities to develop myself and skills within the department, a few examples of these are; leading the Covid swabbing project in the department, attending the departmental governance meetings, taking part and leading with projects and undergoing work experience in different departments in the Trust.
However, I had to face some challenges while working as an apprentice. One challenge I faced was organising the department away day as I had to organise an event for a large group of people and ensure all funding was in place for this to take place and the day be efficient for purpose. Although challenging, as I had to ensure I had fully organised the day and obtained quotes and booking documents. As a result of this, I gained a really positive experience enabling me to develop and gain many organising skills. One very different challenge I faced was being redeployed to Corbett Outpatient Centre within the Dudley Group. During this time, I had to undergo a change in job roles and responsibilities. However, from this I took away great experience, and many developed adaptation skills. Therefore, throughout the apprenticeship I developed and gained many skills that I still use today within my occupation that was lead from starting as an apprentice.
On completion of my apprenticeship, I was offered to begin working as a Medical Secretary within Elective Orthopaedic Ward, B1. The great opportunity of working and training as an apprentice has lead me to develop as an individual and within my role within the department, gain opportunities and take on many responsibilities. Therefore, from a perspective of my own while working as an apprentice, an apprenticeship is a great way to start your career and develop many new skills while earning a salary.
---
Harry Morgan
Simulation Centre Technician
Started as an Apprentice Administrator in 2017
I started my level 2 apprenticeship in business and administration in March 2017. After that I continued with my level 3 in March 2018, and then eventually started my level 4 qualification in June 2019.
I started my apprenticeship in the Clinical Skills and Simulation Departments. However from August 2020, I work full time in the Simulation Centre. My roles in both Clinical Skills and Simulation included setting up and clearing away equipment for courses, ensuring all administration duties were prepared and ready for when they were being used and also helping with the general day-to-day running of both departments.
My colleagues and managers were all extremely supportive whilst carrying out my apprenticeship work and ensured that I had sufficient time to complete it throughout the apprenticeship programme. I found my role very interesting and enjoyed interacting with many different people on a daily basis through doing different tasks in my job. It was beneficial to me to learn how to use the bespoke systems in my role and gain an understanding of how they worked for the department I was in and the specific job I was doing.
Whilst doing my apprenticeship, a challenge I faced early on was trying to juggle between fulfilling my role in my two departments, and also keeping up with the classes and coursework I was undertaking to gain my qualification. However after recognising this challenge, I worked on my time management skills and was able to adjust my way of working to accommodate everything I needed to achieve.
The reason I chose to go into an apprenticeship was because I believe I am not the type of learner who learns best by reading and studying. I prefer to physically do things and learn from my own mistakes and other people around me. I also wanted to learn whilst earning money, and an apprenticeship is a great way to do this as it gives you experience of holding a fulltime job and you gain a qualification at the end of it.
I built on and gained a lot of skills whilst being an apprentice. Two main skills I developed on in this time were team work and communication. As I was speaking, calling and emailing a lot of different people every day, this helped me know how to communicate and work with others effectively. Through experience of working and coming across problems that needed resolving quickly and effectively, I also built on my problem solving skills and can now address different types of problems in a better way.
During my time being an apprentice I learnt more about what skills I have as an employee and what I can bring to tasks that I am now faced with. I have developed a better understanding of how I work best and in what kind of working environments I am more likely to succeed in.
I am currently coming to the end of my level 4 qualifications and plan on building on my career with the NHS. I am also looking at starting a management course once my level 4 in business and administration is complete.
---
Holly Robinson
Assistant Directorate Manager
Started as an Apprentice Administrator in 2013
After leaving school, and subsequently Sixth Form, I joined the NHS as an Apprentice in 2013. I did have a number of GCSE's and A-Levels at this point however I understand this isn't essential for most entry level apprenticeship programmes.
Following my 12 month apprenticeship I managed to secure a permanent position as Administration Assistant within the Discharge Team where I then completed two additional NVQ qualifications at levels 3 and 4. After spending a couple of years in this role, I progressed to the role of Personal Assistant to the Director of Operations, Deputy Director of Operations and Chief of Medicine.
Eight years later from joining as an Apprentice, I am now on secondment as Assistant Directorate Manager for Elderly Care, Stroke, Rheumatology, Neurology and GU Medicine!
I would 100% recommend the NHS apprentice programme to anyone looking for a career in the NHS. It is the perfect way to earn as you learn and there are always further opportunities throughout your journey.