Our charity is not about providing healthcare, charitable donations we receive enable us to provide comfort and facilities above and beyond those provided by the NHS. Enhancing a person's visit to us can make all the difference to their well-being, improving both their recovery and overall experience.
We want you to be confident that your donation will go where you want it to go.
The Dudley Group NHS Charity is an umbrella charity which looks after the charitable funds of all the wards and departments.  Our Registered Charity Number is 1056979.  Once your donation goes into the main charity account it will be directed immediately to your designated ward or department charity fund.  They get regular notifications of donations and the funds are spent by matrons and senior members of staff on the unit.  They are extremely grateful for charity donations and will always endeavour to spend them wisely.
How you can get involved

Better Brighter Future Appeal
Please get behind us to help our charity focus on making sure we give the best experience to our patients and support the wellbeing of our staff.  If you would like to make a
one off donation
or
set up your own fundraising page
please go to:
www.justgiving.com/campaign/LoveDudleyNHS

Glitter Ball – Friday 5 November 2021
Our charity has decided to host a post-Covid celebration event to be held on Friday 5 November 2021 at the Copthorne Hotel, Merry Hill, Dudley. The Glitter Ball will bring together local businesses across the Black Country to show support for our Charity and network with other like-minded Black Country businesses.
Business leaders will have the opportunity to hear from the trust chief executive Diane Wake, key consultants and front-line staff who have all worked throughout the pandemic.
Guests will be treated to a wonderful evening of entertainment including welcome drinks and a two-course meal.
The funds raised from this charity event will go towards the Better Brighter Future Appeal. The appeal will help support our NHS heroes and make a positive difference to all who use our hospital's services, offering them the best experience possible.  Email: dgft.fundraising@nhs.net for details.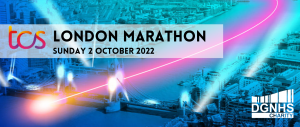 2021 LONDON MARATHON – 11th – 22nd October 2021
DEADLINE for 2022 Ballot place applications is THIS FRIDAY!!
The 2022 TCS London Marathon Ballot closes at 21:00 on Friday 8 October – Apply here: 2022 TCSLondon Marathon | ballot.entry
The ballot for the 2022 event, which takes place on Sunday 2 October 2022, is free to enter – you only pay for your 2022 TCS London Marathon place if you're successful in the ballot. If you live in the UK, please enter the UK Ballot. The cost of a place for successful UK participants is £49 (with a £2 discount for members of UKA-affiliated running clubs).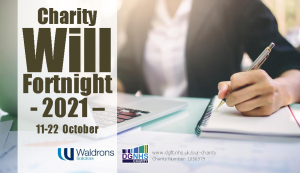 MAKE A WILL FORTNIGHT – 11th – 22nd October 2021
It costs just £80 to have your will prepared by Waldrons Solicitors (£150 for a couples' will) if booked via Will Fortnight.  Making a will is simple and an important way to protect the future of your loved ones.  Click here to find out more about writing a will during Will Fortnight.
If you are booking an appointment you may wish to discuss Lasting Powers of Attorney (LPA).  Although the preparation of an LPA is not part of the Will Fortnight campaign your solicitor will be happy to briefly discuss this with you at your appointment.
CONTACT US
MAKING A DONATION
General Office.   Tel: 01384 456111 ext: 2872.  email: dgft.general.office@nhs.net
FUNDRAISING
Fundraising Office.   Tel: 01384 456111 ext: 3349 email: dgft.fundraising@nhs.net
CHEQUE PRESENTATIONS
Communications.   Tel: 01384 244403.  email: dgft.fundraising@nhs.net
CHARITY FUND ENQUIRIES
Finance Office.   Tel: 01384 321121. dgft.charityfinance@nhs.net 
Alternatively you can access further information from our website:
OUR  CHARITY  APPEALS
Cancer – Caring for the Patient and their Family
Dealing with cancer, for both the patient and their family, can be very distressing. It is vital that our charity adds as much comfort and care as possible.  More information.
Children – Making it better for our younger patients
Hospitals can be a scary place, especially for children.  Our charity endeavours to ease the experience of the children in our hospital, and their families, by providing a comfortable, reassuring base for their care and treatment.  More information. 
Dementia – Moving forward with dignity and respect
A person with dementia needs to feel respected and valued for who they are now, as well as for who they were in the past. There are so many things that we can do to help.  We aim to raise awareness as well as funds.    More information.
Baby Bereavement Campaign
Please support those affected by the death of a baby at Russells Hall Hospital. Click here for more information about the appeal and how you can get involved.  You can also make a donation on JustGiving by clicking here.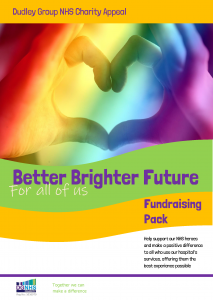 Click here to download our fundraising pack.