Dudley Group NHS Charity Events
We have many events and campaigns running throughout the year.  It's never been easier, or more fun, to support our charity and we have prepared a host of events to suit everyone!
By attending our events or taking part in our campaigns you will be helping to make the lives of our patients more comfortable. Enhancing a person's visit to us can make all the difference to their well-being, improving recovery and overall experience.
---
Superhero Fun Run and Family Fun Day
Join us this summer on Sunday 11th June to help raise money for our children's appeal by taking part in our 5k Superhero Fun Run and attending our family fun day!
The route of the run will take you through the grounds of Himley Hall & Park so you can enjoy the beautiful scenery while raising money for our charity. We welcome people of all abilities and you are free to either run or walk the event. We kindly ask that all participants try and raise a minimum suggested sponsorship amount of £50.
​To register for our fun run at an early bird discount rate, 
click here!​
If you aren't a runner, you can come along to our family fun day instead where there will be lots of stalls and activities​ to browse and take part in such as:
Fun fair
Face painting
Giant games
Cake sales
Animal man
Merchandise
And much more!​
Tickets to attend the family fun day are free! Click here​ to register your attendance.
---
NHS Big Tea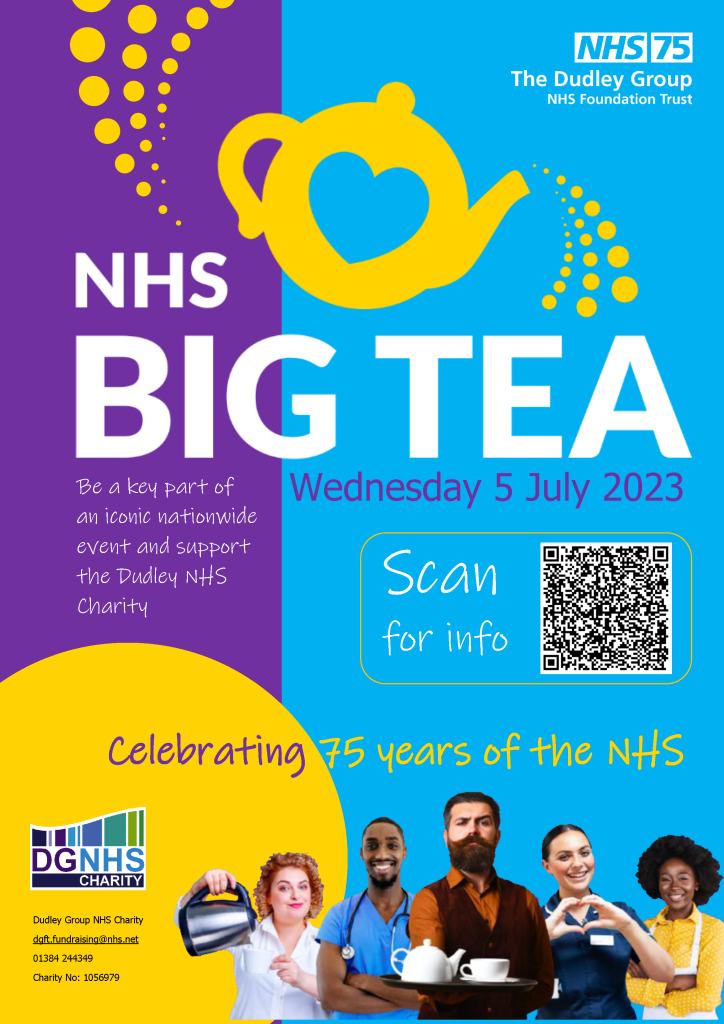 Who doesn't love a tea break? And even better if it can do some good for your community. The Dudley Group NHS Charity is inviting people living in the Black County to help the NHS go further by joining the annual NHS Big Tea – so why not put the kettle on and raise a cuppa as well as vital funds for our much loved health service, which turns 75 this summer.
On 5th July, the NHS Big Tea brings the nation together to fundraise for NHS charities, which provide extra support for staff, patients, and volunteers in every UK hospital, Community Services and Health Boards.
Now entering its sixth year, this summer's NHS Big Tea celebration will be extra special as we celebrate 75 years of the NHS. You can take part on 5th July, the birthday of the NHS, or any day that week. And your fundraising can help to support the health and wellbeing of NHS staff at a time when they need it most. What better way to give back to those who have always looked after us?
To find out more, click here.
It is really easy to sign up – just create a JustGiving page through our link:
www.justgiving.com/campaign/NHS-BigTea-Dudley
If you have any further questions, please email dgft.fundraising@nhs.net