Your stories and pictures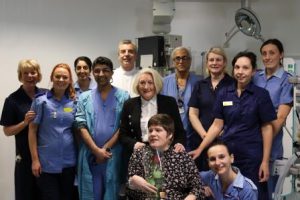 Grateful family says thank you to Critical Care
Abbie Hingley and her family were welcomed to our Critical Care unit in February 2020 when they donated three smart TV's to the unit. Abbie was previously a patient on the Critical Care unit for five months, she received excellent care from staff and wanted to show her appreciation.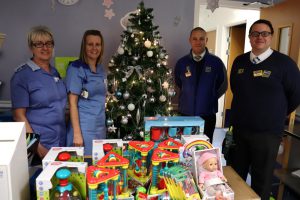 Selco donates toys to Children's Outpatients Department
A West Midlands building warehouse company named Selco donated a collection of toys to the Children's Outpatients Department! They were welcomed into the ward by children and staff whilst bringing the toys in. If you would like to check out Selco please visit: https://www.selcobw.com/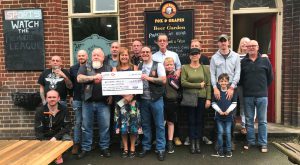 Fox and Grapes donates £3,372 to Neonatal Unit
The Fox and Grapes pub in Pensnett raised the fantastic sum of £3,372 for our Neonatal unit! Staff and customers have chipped in over the past few months to support this fantastic unit. The happy bunch are pictured presenting the cheque to Lindsay Eskins-Round from Neonatal.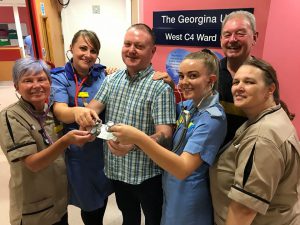 Carl Bottley 'Mr Charity' donates £2,700 for Georgina Unit 
Carl Bottley was welcomed back to Russells Hall Hospital where he presented a cheque for £2,700 to the Georgina Cancer Care Unit. Carl, affectionately known by friends as 'Mr Charity' has been fundraising for the hospital for a number of years. 2019 events  were in memory of Christine Bowen who was cared for on the unit.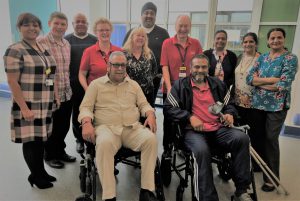 Aashina Charity donates two wheelchairs 
Members of the Aashiana Charity visited Russells Hall Hospital to donate two wheelchairs to the Trust Volunteer Wayfinders. The generous group also donated £500 to the Children's Emergency Department Appeal.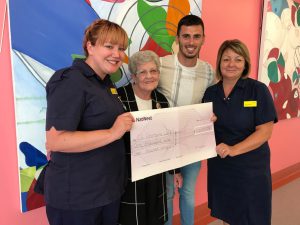 Patricia Bodin donates £1,010 to Georgina Unit 
Mrs Patricia Bodin and her family donated £1,010 to the Georgina Cancer Care Unit. The family wanted to show their appreciation for the wonderful care given to Patricia's husband, Tony. They met up with lead nurses Jackie Waldron and Jade Norton who received the donation.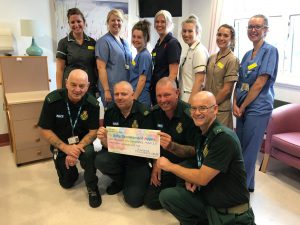 'Brave the shave' colleagues welcomed on the Baby Bereavement Suite 
Officialwmas 'brave the shave' colleagues were welcomed to the Baby Bereavement Suite to see where their fundraising will be spent. Mick Clee, Dave Porter, Blake Soley and Phil Baxter all had their heads shaved in front of colleagues and surprised hospital visitors in July for the Trust charity. They have raised an amazing £1,920 so far and staff on the unit were more than happy to tell them about the big difference their fundraising will make.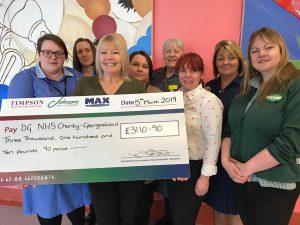 Kay and Shelley donate over £3,000 to Georgina Unit 
Staff from our Georgina Cancer Care Unit welcomed Kay and Shelley from Johnsons Cleaners and Timpsons (Stourbridge, Area 62) who presented a donation of over £3,000. Kay Lanchbury nominated the unit in recognition of the excellent treatment she received in 2014. Kay said: "I cannot express how wonderful the staff were. I was so scared and bewildered, and the awesome team kept me going."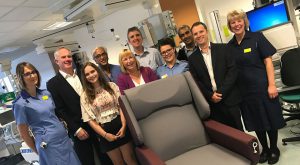 Anita Towns visits critical care to see 'in memory' rehabilitation chair
Anita Towns visited our Critical Care Unit in 2017 to see their reclining rehabilitation chair. The chair was purchased thanks to donations in memory of Anita's husband Craig Towns who was cared for on the Unit.
The specialist chair has allowed for patients to sit in comfort somewhere other than their bed.
She was accompanied by her daughter Rebecca and some of Craig's colleagues from The National Grid who also contributed to the donation.