Many people who are in hospital find that it is a time of uncertainty, of questioning what is important and of coming to terms with issues they have not faced before. Sometimes a conversation about "the big questions" can be helpful for patients and families, and our chaplains are highly trained to offer this support.
We offer pastoral, existential, spiritual and religious care to our patients, their visitors and our staff. Our service is confidential and compassionate.
If you would like support from one of our Chaplains, please call extension 2352 or ask a member of staff to refer you to us.
Messages can also be left in confidence on the office answering machine, or e-mails sent to dgft.chaplains@nhs.net
We have chaplains from the following faith and belief groups:
Christian – Roman Catholic, Methodist, Quaker, C of E and ecumenical
Muslim
Humanist
Sikh, Hindu and Pagan on request
If you have any religious or spiritual needs in hospital we can help.
If you have no beliefs or spiritual needs we are still here to support you and your hospital journey.
We understand the challenges faced in hospital can cause anger, regret, frustration, sadness and lack of hope.
We know that sometimes difficult decisions, such as switching off life support machines or terminating a pregnancy, need to be made and this can feel overwhelming and isolating.
We also know that hospitals can be a place of joy and new life, of life-saving treatment and good news.
Whatever is on your mind we can be alongside you and your loved ones. Our ultimate goal is to support mental, physical and spiritual health and wellbeing.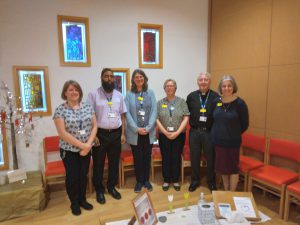 We specialise in supporting patients who are at the end of their life and can offer support to the family as well as beautiful end-of-life blessings, prayers or poetry. We work closely with the Baby Bereavement Service to offer unconditional support to families who are experiencing the death of a baby at any stage of pregnancy or infancy, and we conduct the funerals for all babies that die in the hospital. Further we offer ethical and religious advice, grief support, trauma debriefs, emergency weddings, blessings, befriending, bedside visits and staff support.
Prayer Centre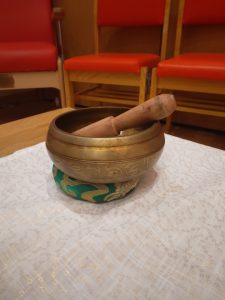 The Trust has a Prayer Centre at Russells Hall Hospital which is open 24/7.
The Prayer Centre is open to everyone who is seeking peace, support, and a place to pray or reflect.
It is a place that invites and challenges us to stop and to simply exist for a moment in time and space. It is a stationary snow globe in which the wild flakes that fly about within and around us may be allowed to settle.
The Prayer Centre has four distinct areas:
The Sanctuary
The main area is an open space for anyone to come and be still, reflect and feel held. We offer mindfulness sessions in the Sanctuary, as well as a cup of tea and a chat to anyone who drops by.
Love and prayer come from the same place and often precede any one belief. However you pray and whoever you pray for, please feel free to leave us a Prayer Request if you would like to.
Our Baby Memorial Book and Baby Remembrance Tree of Light are on display in the Sanctuary.
Salah and Wudu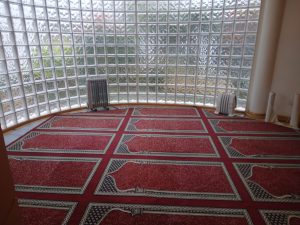 We have comfortable and carefully designed prayer areas for our Muslim visitors.
There are male and female spaces as well as a wudu available. We are honoured to host 8 congregational prayer times on Friday lunchtimes for our Muslim brothers and sisters to worship together.
The Chapel
The chapel is a space for those with a Christian faith, and anyone who feels comfortable in a church. There is an altar, tabernacle and prayers to take away. You are invited to pause and light a candle as you pass by.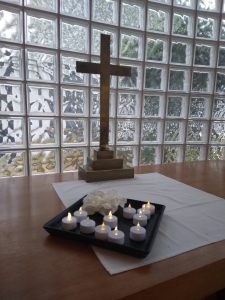 We offer ecumenical Pause for Prayer services and Roman Catholic Adoration of the Blessed Sacrament services throughout the week.
The Message Tree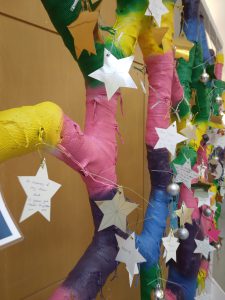 In the main corridor, outside the Prayer Centre and opposite the café, is our beautiful message tree. Anyone can write a 'leaf' and add it to our tree. In loving memory, a wish, a hope, a prayer, a goodbye, a message of love.
The messages are gathered each month and our multi-faith chaplains offer a blessing over them before composting them.
The Peace Garden
The peace garden is available for quiet contemplation, to enjoy some sunshine (British weather permitting!) and to be in the healing world of nature. It can be accessed from the main corridor near the Prayer Centre, and is open during the day time.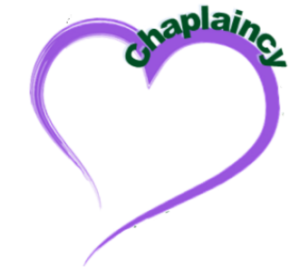 Our chaplains are highly trained and accredited members of NHS staff, bound by strict professional standards. These standards are set down by our professional body The UK Board of Healthcare Chaplains.