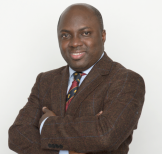 Consultant Laparoscopic Colorectal & General Surgeon 01384 456111 (ext. 2739)
Further information
Mr. Akinfemi Akingboye is a Consultant Laparoscopic Colorectal and General surgeon at The Dudley Group Hospital NHS Foundation Trust (Russell Hall Hospital West Midlands, England).  He is an academic surgeon currently the clinical governance and surgical lead for inflammatory bowel disease.  His areas of clinical interest are the surgical management of Inflammatory Bowel Disease (IBD), advanced therapeutic endoscopy, advanced laparoscopic surgery, hereditary cancer syndromes, colorectal cancer, proctology and emergency management of gastrointestinal diseases. He is an accredited upper and lower GI endoscopist by JAG UK,
He completed the prestigious higher surgical training (Residency progamme) in General and Colorectal Surgery from Cambridge Deanery, UK. He undertook a subspecialist colorectal fellowship at St Mark's Hospital, London, UK in advanced coloproctology prior to taking up a consultant post. Mr Akingboye completed is academic research program at the Barts and the London Hospital, which led to the award of a Doctorate of Medicine degree by the Queen Mary University of London, UK (2012). He is a fellow of the Royal College of Surgeon, England and an associate fellow of the Higher Education Academy of England.
He has published in several scientific journals and functioned in the capacity of editorial board of scientific journals at various times during his career. He is a member of the European and British Coloproctology society and Association of laparoscopic surgeon of the Great Britain and Ireland. He currently lead a group of international cancer research team, with interest in elucidating the biomolecular genetics of colorectal cancer in the young African-Americans.