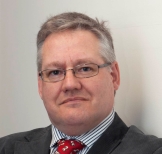 Consultant surgeon 01384 456111 (ext. 3451)
Further information
Mr Wharton was born and grew up in Birmingham.  He completed his Hons. Degree in Anatomy and susequently taught at Southampton University.  He completed his MPhil at Southampton in 1988 and entered Southampton Medical School.  Most of his junior doctor jobs were on the south coast.  He returned to Birmingham for his SPR rotation in 1998 and undertook his fellowship in Vascular Anomalies at Boston Children's Hospital, USA.
He has been a consultant since 2005 and has been in Dudley since late 2008.  He has has been lead for skin cancer four times, paediatric plastic surgery for 13 years and was also medical service head for plastic surgery for nearly 2 years.  He has been an examiner for the intercollegiate examination for plastic surgery since 2010, secretary for the exam board for 3 years and is now an assessor for the exam.  He is a member of the curriculum writing group of the Specialist Advisory Committee for Plastic Surgery.
His philosophy is to be honest and upfront with patients in terms of what he feels he can achieve and the expected outcome.
Areas of interest
Skin tumours / cancer/ oncology • Hypospadias • Soft tissue reconstruction of the foot and ankle • Vascular anomalies