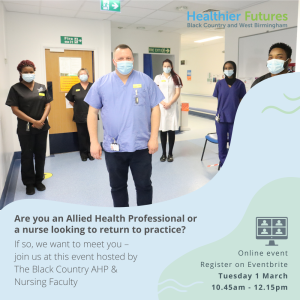 On Tuesday 1 March, we are supporting a networking event hosted by The Black Country Allied Health Professionals (AHPs) and Nursing Faculty to welcome AHPs or nurses back to practice.
If you know of anyone who is an AHP or nurse who is already registered and looking for a period of updating before starting a new role please pass on the event details.
Or maybe an AHP or nurse who lives abroad and plans to return to work in England, maybe you have had a career break and are now ready to return to work and once again be on the Health and Care Professions Council or Nursing and Midwifery Council register?
Our very own Karen Lewis, who is chief AHP here in Dudley & Chair of the Black Country AHP Council and Jennifer Glynn, AHP Professional Lead & Chair Black Country AHP & Nursing Faculty will be among the speakers.
Click here for more details on how people can attend the event.