Parents are being urged to look out for signs of viral respiratory infection in their children following a rise in cases in the borough.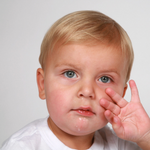 RSV, as it is also known, is a common viral infection in young children. It is the most common cause of bronchiolitis, an infection of the lower airways, in children aged under two.
Cases were low last year, due to lockdown, but with the easing of restrictions cases are expected to rise over the coming months and into winter.
Parents, however should contact their GP or call NHS 111 if their child struggles to breath, they have taken less than half their usual amount during the last two or three feeds, they have had a dry nappy for 12 hours or more or have a persistent high temperature of 37.8C or above.
Most cases of respiratory infections are not serious, will clear up within two to three weeks and can be treated at home in the same way as a cold.
Early symptoms of infections like bronchiolitis are similar to those of a common cold, and Covid -19, including a runny nose and a cough. As such a PCR test to rule out Covid should be taken.
Councillor Nicolas Barlow, cabinet member for public health, said:
Over the last year and its lockdowns, children were not exposed to many of the common viruses so will not have picked up immunity as they normally would.
With the lifting of restrictions and people starting to mix more, we're expecting to see a higher number of children than usual with severe respiratory illness.
I want to reassure you that most cases of respiratory illness are not serious and clear up within two to three weeks. However, we do want to make everyone aware of the signs of RSV, so they know how to treat their children at home and know when to seek medical help."
RSV is a very common virus and almost all children are infected with it by the time they are two years old. In older children and adults, it may cause a cough or cold.
However, some children under two, especially those born prematurely or with a heart or lung condition, can suffer more seriously.
Dr Thomas Gorst, consultant paediatrician at The Dudley Group NHS Foundation Trust, said:
We are currently seeing an increasing number of children being admitted with bronchiolitis, there are approximately two to three children a day presenting with symptoms.
However, bronchiolitis is extremely common and, in most cases, can be safely managed at home.
Lucy Rozga, matron for children services at The Dudley Group NHS Foundation Trust,  added:
Across the UK this winter we are expecting to see a surge of babies with bronchiolitis that may need medical admission.
We are prepared for this and would encourage any parents who are concerned about their child having laboured breathing, looks dehydrated or is excessively sleepy to seek advice from the GP or 111.