Our new Phlebotomy Hub opens at the Merry Hill Shopping Centre from Tuesday 11th October and you can book appointments here.
---
There are now two ways you can have a blood test here at The Dudley Group NHS Foundation Trust. 
When attending for a blood test please ensure that you bring your blood request form with you. The phlebotomist needs this so that we know what blood to take for which test, without this form we will not be able to take your blood sample.
---
GP REFERRAL
If you have been referred directly from your GP and have a copy of the form below, you will need to book online or call us before attending. All the booking details can be found at the bottom of the page.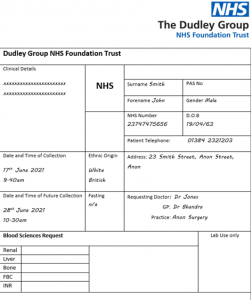 ---
CONSULTANT OR NURSE REFERRAL
If your consultant or nurse in the hospital have asked you to get a blood test and have provided the form below, then you can book a time slot via our online booking system or telephone booking line. Alternatively you can now access our walk-in services at the time of your hospital visit without an appointment. 
Please note that if you are seen in a virtual clinic, ie by video link, and your consultant wishes you to have a blood test, you will need to book this online via the links below. Your consultant will send an electronic request to the department so the phlebotomist knows what tests are required, but you are required to make the booking.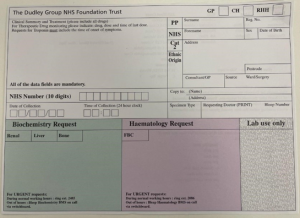 ---
HOW TO BOOK
To book a blood test call 01384 365155 or just visit any of the following links: 
---
Blood tests are available at: 
Merry Hill Shopping Centre (Opening Tuesday 11th October)
Monday to Friday 8.10am-8pm
Saturday 8.10am-7pm
Sunday 10am-4pm
Corbett Outpatient Centre
Monday to Friday 8am to 5pm 
Guest Outpatient Centre
Monday to Friday 8am to 5pm 
Russells Hall Hospital, Main Outpatients Department, North Wing
Monday to Friday 8am to 6pm
Children's blood tests will only be provided at Children's Outpatients Department, Russells Hall Hospital. Please do not book children under 16 at any other site for blood tests.