The Living with and Beyond Cancer (LWBC) team are here to support you through your cancer journey and beyond. The team provides information, support and signposting to other services and organisations, as well as facilitating health and wellbeing events.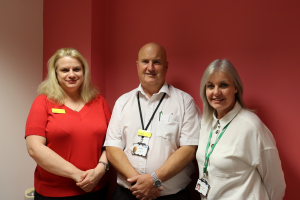 Meet our team
Lead cancer nurse – Tracy Beese
LWBC project lead nurse – Nicola Perks
LWBC coordinator – Tim Wright
Macmillan LWBC clinical nurse specialist – to be appointed
Email the team on dgft.lwbcteam@nhs.net
We can best identify your needs by completing a Holistic Needs Assessment (HNA)
What is a Holistic Needs Assessment (HNA)?
A tool used by healthcare professionals to identify your individual needs and contribute to a discussion about your health. The discussion can then be focused on areas that are important to you, a care plan developed and referrals/signposting made to support services, such as rehabilitation, psychological support and services dealing with the consequences of treatment.
This ensures that your care and support services are planned and accessed appropriately.
Treatment summaries
This is a letter which is completed by your cancer team and sent to you and your GP after your primary treatment.
The aim of this letter is to provide high quality communication between your hospital team and your GP. The letter will contain details of any treatment you have received, but also useful information about alert symptoms that require referral back to your specialist team, possible consequences of treatment, an ongoing management plan and any required GP actions to help support you. Copies of the completed treatment summary will be sent to both you and your GP.
Cancer care review
Within six months of your GP practice receiving notification of your cancer diagnosis, you should be invited to have a cancer care review appointment with your GP or a practice nurse. This appointment will give you an opportunity to understand what information and services are available to you in your local area, and to enable you to self-manage your health with support as needed.
Due to the COVID-19 pandemic, and the social distancing guidelines implemented by HM Government, we have had to temporarily defer our monthly health and wellbeing events. As soon as we are advised  that it is safe to resume these events, we shall invite patients to attend.
In the interim period, we have made our PowerPoint presentation available to patients and some informative videos can be found further down this page.
Please click on the link below:
Contacts:
Macmillan Citizens Advice Bureau Benefits Team – 01384 817721
Action Heart – 01384 456111 ext. 1470
The White House Cancer Support -01384 231 232
Black Country Lymphoedema Support Network – 01902 654417
Extension numbers for our site specific clinical nurses
Call 01384 456111 and add the following extensions:
2873

Breast

2065

Colorectal

2286

3088

Lung

2752

3355

Haematology

2453

2443

Acute oncology

3425

 Head and neck

2655
If you have a diagnosis of cancer, did you know that you are entitled to free prescriptions?
Patients who are undergoing treatment for cancer, experiencing the effects of cancer or the effects of cancer treatment, and are entitled to NHS treatment, are entitled to free NHS prescriptions via a medical exemption certificate.
If you are over 60, you do not need to apply as you are already exempt from prescription charges.
You can ask for an application form (FP92A) from your GP surgery or oncology clinic. Your doctor must sign it and send it to the address on the application form.
The certificate is valid for five years and covers all NHS prescriptions (whether they are related to your cancer or not).
You do not have to return your certificate before the end of the five years, even if your condition changes.
Useful video links
To view a short video from Macmillan on Healthy eating advice, click here
To view a short video from Macmillan on Financial support, click here
To view a short  video from Macmillan on Cancer Treatment and Fatigue, click here
To view a short video from Macmillan on Talking to children when an adult has Cancer, click here
To view a short video from Macmillan on Chemotherapy, click here
To watch a short video from Macmillan on How to avoid infection during chemotherapy, click here
To view a short video from Cancer Research UK on What is radiotherapy and how does it work, click here
To view a short video from Penny Brohn on Yoga, click here
To view a short video from Penny Brohn on Stretching, click here
Other cancer websites and contact details:
Macmillan Cancer Support – 0808 808 0000 or visit www.macmillan.org.uk
Cancer Research UK – 0808 800 4040 or visit www.cancerresearchuk.org
Penny Brohn UK – 0303 3000 118  or visit www.pennybrohn.org.uk