We are not currently offering on site work experience for those under the age of 16.
---
Aged under 16?
Inspiring Our Future Workforce Programme
Powered by

Available from July 2022
Click HERE to access and apply for our online work experience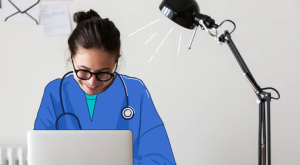 ---
Useful information for students and teachers
Did you know that there are 350 different careers in the NHS, probably more than in any other organisation in the world? And you'd be surprised how many of them don't require a degree, aren't directly patient-facing, or aren't clinical or hands-on.
Although everything that everyone does is for patients, their families, carers and the public, we can all contribute in different ways. We can all make a difference and help others.
Please click here for the full range of careers.

Careers within the NHS:
Careers in health informatics booklet – Health informatics is an umbrella term referring to staff in the NHS who collate, manage, interpret and present patient and healthcare information. They may also manage the computer, phones and other communications systems. Click here to meet Tom and hear about his experience
Careers in medicine booklet – There are many different 'specialties', ranging from psychiatry, surgery, anaesthesia and pathology, through to radiology, general practice, obstetrics and gynaecology. Click here to find out what working in Emergency medicine is like.
Midwives work as part of a multidisciplinary healthcare team that includes hospital doctors such as obstetricians, GPs, other midwives, health visitors, neonatal nurses and support staff. However, midwives also work independently. Click here to find out the different pathways of Midwifery.
A career in nursing offers employability, flexibility and purpose and nurses work with people of all ages and backgrounds in a variety of settings, such as patients' homes, communities and hospitals. Click here to see what it is like working as a oncology adult nurse.
Pharmacy staff play a vital part in patient care and recovery as well as public health, by using their expert knowledge of medicines and their uses. They work with colleagues in the wider healthcare team such as doctors, nurses and allied health professionals. Click here to meet Jacques who is competing an administration apprenticeship within Pharmacy.
Careers in the allied health professions booklet
Allied health professionals (AHPs) provide treatment and help rehabilitate adults and children who are ill, have disabilities or special needs, to live life as fully as possible. They work across a wide range of different settings including the community, people's homes and schools, as well as hospitals. They often work in the independent sector and for charities.  Here is a range of departments within AHP:
Careers in the wider healthcare team booklet
There are lots of different roles in the wider healthcare team, including administration, clinical support staff, corporate services, domestic services, estates services and support services. So you'll find lots of opportunities whether you want to work directly with patients or would rather provide support behind the scenes.