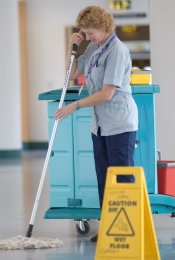 Interserve's 600 employees manage and deliver non-clinical support services on a daily basis. This includeseverything from maintenance, security and car parking through to catering and portering.
The majority of services are delivered 24 hours a day, 365 days of the year, some examples of which include:
14 miles of corridors cleaned every day
250 helpdesk calls answered every day
2,500 patient meals served every day
600 visitor cars managed every day
7,500 items of linen cleaned and folded every day
350 portering moves performed every day
7,000 items of mail handled every day
37,000 instruments and 912 surgical trays sterilised a year
700 tonnes of clinical waste, 36 tonnes of confidential waste and 850 tonnes of domestic waste collected and disposed a year
The partnership looks to better improve service delivery every day, from refurbishing the restaurants and introducing Costa Coffee points, upgrading all accommodation to three-star, building a new staff car park and re-aligning service delivery to improve cleaning productivity by 50 per cent and achieve a 20 per cent improvement in portering moves to support an increase in theatre efficiency.
All this has been recognised by the Trust achieving an 'excellent' rating in the environment category of the annual Patient Environment Action Team (PEAT) assessment. The Trust also maintained its 'good' ratings for food and privacy and dignity and won the Dudley Food for Health Award for encouraging healthy eating among staff.