There are now two ways you can have a blood test here at The Dudley Group NHS Foundation Trust. 
---
GP REFERRAL
If you have been referred directly from your GP and have a copy of the form below, you will need to book online or call us before attending. All the booking details can be found at the bottom of the page.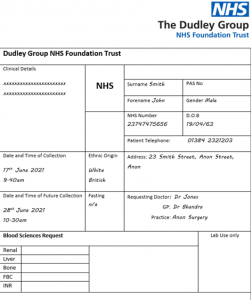 ---
CONSULTANT OR NURSE REFERRAL
If your consultant or nurse in the hospital have asked you to get a blood test and have provided the form below, then you can book a time slot via our online booking system or telephone booking line. Alternatively you can now access our walk-in services at the time of your hospital visit without an appointment.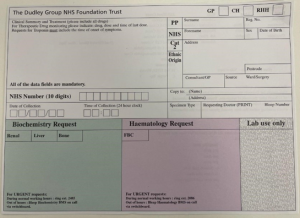 ---
HOW TO BOOK
To book a blood test online just visit any of the following links: 
---
Blood tests are available at: 
Corbett Outpatient Centre
Monday to Friday 8am to 5pm 
Guest Outpatient Centre
Monday to Friday 8am to 4pm 
Russells Hall Hospital, Main Outpatients Department, North Wing
Monday to Friday 8am to 6pm
Saturday 8am to 1pm