GOING LIVE FROM 7th MARCH 2023
We've moved over to digital letters in Outpatients – it means you can now view your appointment letter on your mobile phone. We're in the process of rolling out admission letters.
If you have a smartphone then you don't need to wait for your appointment letter to arrive in the post anymore as you can confirm, cancel or rebook your appointment/admission at the click of a button.
Don't worry about missing a letter as if you don't open the digital letter, within 24 hours a hard copy will be sent to you in the post. If you don't have a smartphone, or you've not given us your mobile number, you will continue to receive paper letters in the post.
We also offer SMS reminders – look out for a text message 7 days in advance and again 48 hours before your appointment to remind you of the time and date and where to go if it's a face-to-face appointment or how to access it if it's a virtual one.
How it works
You'll get a text message with a link to your digital letter
Seven days before your appointment we'll send an SMS reminder
You'll get another SMS reminder 48 hours before your appointment
Watch this video to see how it works in detail:
What happens when you receive the text message
1. You will receive a text reminder to your smartphone with your appointment/admission details – it will come from NHSNoReply and say 'This is an important letter from The Dudley Group NHS Foundation Trust.' Simply click the link in the text message to take you through to the Portal.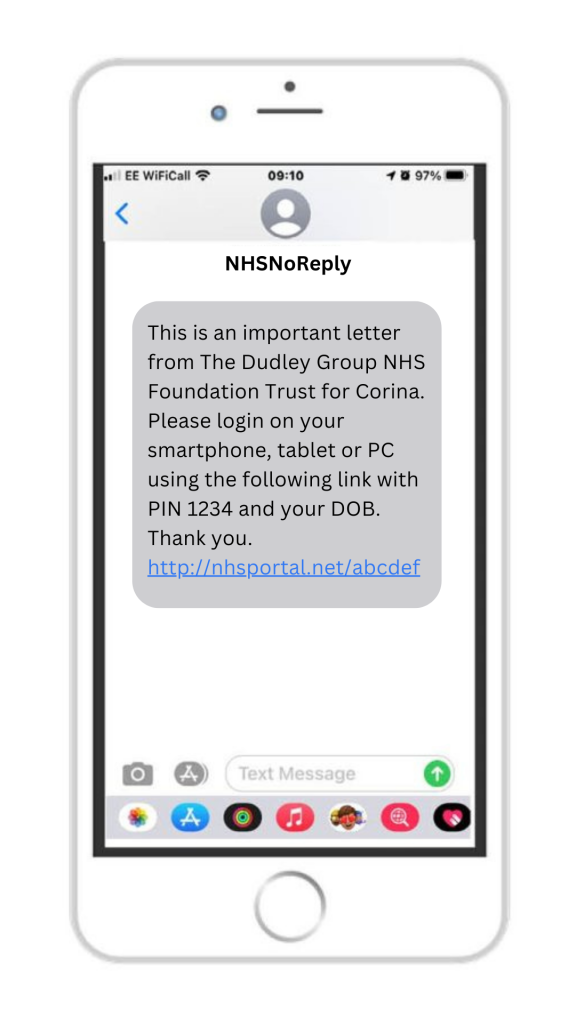 2. When you enter the Patient Portal, put in your date of birth and unique four-digit PIN from the text message. This will take you to your appointment/admission detail page, where you will be able to see the date, as well as hospital and clinic information.
3. Select whether you want to confirm, rebook or cancel your appointment or admission. You can download the letter and/or add the appointment to your own calendar. If you can't attend the date specified in the letter, you can choose to rebook or cancel your appointment. If you select rebook we will contact you to arrange another date.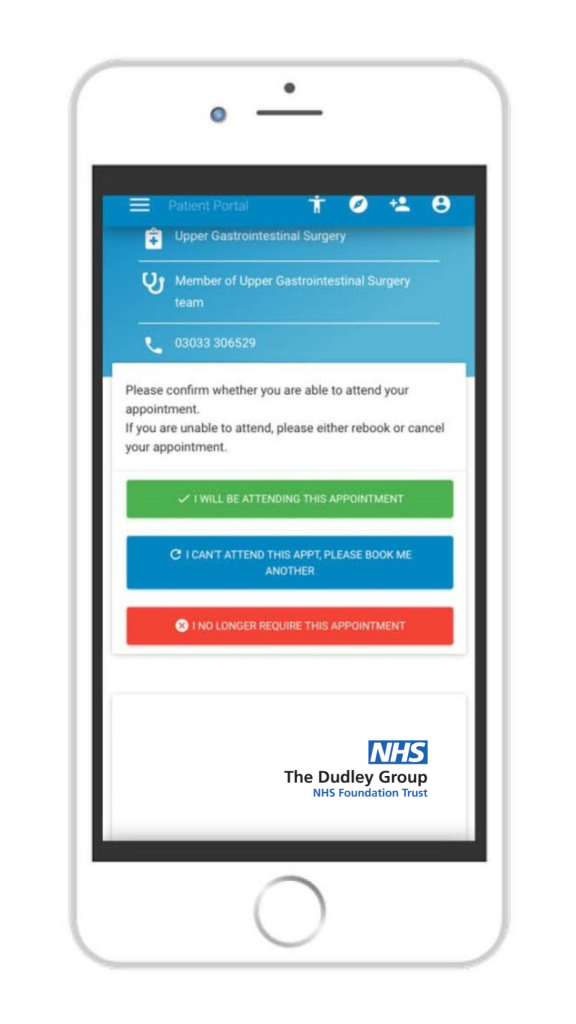 When you open your first digital letter from us you'll be given the option to create a username and password for the patient portal. If you do this, you'll be able to log in to see all your letters in one place, and the next time you get a notification of a new letter it will instead invite you to log in to https://dgft.nhsportal.net
It's quick, easy, safe and secure and should the digital letter not be opened within 24 hours the system will automatically print and post a copy out to your address.
  We've listened to your feedback
You will have 24 hours before a paper copy is sent out in the post.
We've changed it so your name will be on the text message so A) you know it's a genuine message for you, and B) if you're a parent you'll know which child the letter is for before you open it.
Benefits
With digital letters you can:
Change the text size of your letter, zoom in or out
Have the letter read out to you
Change the letter to another language
Download the letter to your phone
Add the date of your appointment/admission to your phone's calendar
Help save the Trust printing and postage costs, which is better for the environment too
Frequently Asked Questions
What happens if I don't receive or respond to the message sent to my phone?
If you don't access your letter within 24 hours of receiving the text message the system will automatically generate a physical letter to be sent to you in the post. You'll also automatically receive a letter after three unsuccessful login attempts to the portal.
What if I don't have a smartphone?
You will still receive a text message but won't be able to access the portal link. Don't worry though, a hard copy of the letter will automatically be sent to your home address.
How do I opt in to receive digital letters?
You are automatically opted in to receiving digital letters. If your details have changed please call the number on your letter.
If I delete my text by mistake after I have opened it up how will I remember my appointment date?
There is an option to add the appointment to your phone calendar when you open the digital letter. You can also register for the patient portal to view all your previous letters in one place – just click register at the top right hand corner once you've opened the letter.
We will also continue to send our appointment reminder text messages ahead of your appointment.
Can I opt out of digital letters?
If you don't want to receive appointment information via text messages or through the portal, contact your speciality admin team or email dgft.patientmanagementcentre@nhs.net with your full name, date-of-birth and postcode or your NHS number if you know it (without this information we are unable to remove you from this service) Please do not email this address regarding other requests or medical details as they will not be actioned.
Alternatively, please call the Patient Management Centre on 01384 365100 between 8am and 6pm (Monday – Friday).
How can I convert my digital letter to multiple languages or change the size of the text?
You can view accessibility functionality in the top right-hand corner of the page. Features include translating your appointment letter to a chosen language, creating an MP3 file, text highlighting tool, and text magnifier to allow increased text size.
If someone has my phone can they access my letter?
The system is secure – you need to put your date of birth and the pin from the text message in to be able to access your appointment letter. Once you have registered for the portal you'll be able to create your own username and login
I am a carer and usually deal with my loved ones appointment letters – can my number be added on to receive the letters as well?
We can only send digital letters to one mobile number per patient. If you wish to change the number to yours we can do that (with consent from the patient) but please bear in mind that this will change the contact number we have for all correspondence/contact from the Trust. Please speak to the relevant speciality admin team to request this change. Alternatively, the patient could opt out of receiving digital letters and continue to receive a letter in the post
To find out more about how your data is being used, please see our privacy notice link https://www.dgft.nhs.uk/about-us/patient-privacy-and-accessibility/".