Board of Directors

Sir David Nicholson – Chair
Sir David Nicholson joined the Trust as chair on 1st September 2022. He is also currently chairman of Sandwell and West Birmingham Hospitals NHS Trust, having taken up his position there in May 2021. David stood down as chair of Worcestershire Acute Hospitals NHS Trust in August 2022.
Sir David Nicholson's career in NHS management has spanned more than 40 years and included the most senior posts in the service. He was chief executive of the NHS for seven years from 2006-2013 and then, following a major national restructure, became the first chief executive of the organisation now known as NHS England from 2013-2014.
Since his retirement from the NHS in 2014, he has taken on a number of international roles providing advice and guidance to governments and organisations focused on improving population health and universal healthcare coverage.
He has worked in China, Brazil, the USA, Europe and the Middle East, independently, and in association with the World Health Organisation, and World Bank. Sir David chaired the State Health Services organisation of the Republic of Cyprus and more recently was also the chairman of the Metropolitan Group of Hospitals, Nairobi.
Sir David is chairman of the Universal Health Coverage Forum of the World Innovation Summit for Health. Other roles include adjunct Professor of Global Health at the Institute of Global Health Imperial College, Advisor to the British Association of Physicians of Indian Origin and Lancet Commissioner to Global Surgery.
His contribution to healthcare was recognised by the award of the CBE in 2008, and he was knighted by Her Majesty the Queen in 2010. He lives in Worcestershire with his wife and two children.
---
Diane Wake – Chief executive
A nurse by background, Diane has worked in the NHS for 38 years. She joined The Dudley Group NHS Foundation Trust as chief executive in April 2017.
Diane trained as a nurse between 1984-1987 and has an extensive background in nursing occupying senior leadership positions in surgical specialities of urology, colorectal, vascular and breast.
Diane has a wealth of experience in both clinical practice and leadership roles. She was previously chief executive at Barnsley Hospitals NHS Foundation Trust from 2013 to 2017 and interim chief executive at Royal Liverpool and Broadgreen University Hospitals NHS Trust, where she also worked as deputy chief executive,  chief operating officer and executive nurse from 2007. 
Diane's experience made her an ideal candidate to become a reviewer as part of the Keogh Trusts in 2013 and then part of the CQC inspection process chairing CQC inspections in East Kent, University Hospitals North Midlands, BARTS and Leeds Teaching Hospitals.
Diane has a passion for patient safety and high-quality care and has knowledge and expertise in implementing robust governance processes.
She is committed to system working both within place and at ICS level. She is the SRO for the ICS leading on cancer, elective and diagnostics. Diane is also the SRO for Acute Provider collaboration across the Black Country System and provider lead on the Integrated Care Board (ICB).
---
Adam Thomas – Chief information officer
Adam rejoined the Trust in 2009 and brings more than 15 years of NHS experience in clinical and senior management positions to his executive role.
A graduate of Aston University, Adam qualified as a pharmacist and proceeded to undertake post-graduate qualifications in clinical pharmacy, independent prescribing and digital healthcare leadership. He worked in medical oncology at The Dudley Group and brings a special clinical interest in improving cancer outcomes for the borough.
After leading a number of digital healthcare projects, he made a career move in 2016 to digital service, with a focus on clinical safety design, which has subsequently extended into integrated care, and workforce transformation through digital and data-services.
As a strong advocate for collaborative connected care systems, Adam has led on the delivery of population health management solution and transformation at pace through the Trust's response to the COVID-19 pandemic. Established as a digital leader within the region, he continues to support strategic agendas as well as quality improvement within the Trust. Adam speaks at a national level on digital leadership, as well as digital-data strategy in health and care.
---
Lowell Williams – Non-executive director
Lowell was the chief executive officer of Dudley College of Technology from 2008-2019 and led the college to an Ofsted Outstanding rating in the 2017 inspection. In January 2018, he was named as one of seven appointments to the government's advisory group, the National Leaders of Further Education, which is made up of principals from colleges who have been rated good or outstanding. Lowell led the creation of Dudley's Academies Trust.
---
Alan Duffell – Chief people officer
​Alan Duffell joins us as interim chief people officer while we recruit to the substantive post. Alan has a wide range of experience within the NHS incorporating OD, learning and development, leadership and management development as well as other HR related roles and is currently in his third provider board level post. He is also currently the HR and OD lead for the Provider Collaborative.
He joined The Royal Wolverhampton NHS Trust in 2017 after previously holding the position of director of human resources and OD at Leicestershire Partnership NHS Trust. Prior to this, Alan was the director of workforce and learning within the Black Country Partnership NHS Foundation Trust and at that time was also a director for Skills for Care, representing the NHS.
Prior to joining the NHS, Alan was in the Royal Air Force spanning a range of roles including avionics engineer, training and development, and leadership development. He holds membership of the Chartered Institute of Personnel and Development (CIPD), Chartered Management Institute (CMI) and holds an MSc in Human Resource Development
---
Liz Hughes MBE – Non-executive director
The Dudley Group welcomed Liz to its board in December 2019. Liz is deputy medical director for Health Education England and a consultant in chemical pathology and metabolic medicine at Sandwell and West Birmingham Hospitals Trust and honorary professor at both the University of Birmingham and University of Aston and visiting professor at Worcester University.
Professor Hughes established the physician associate role in the NHS, a role that many hospitals now have within their workforce, securing the first ever non-medical faculty at the Royal College of Physicians. She is proud that when it first began in 2015 there were 183 and now there are just over 2,500 physicians associates employed in the NHS. 
Medical education and training is a passion for Professor Hughes who has also established a GP training scheme with the Chinese government and developed speciality medical training within the Middle East.
 Liz is a national expert in the treatment of inherited lipid disorders and is one of the founder members of the national charity HEARTUK with which she has worked extensively with multi professional healthcare professionals and patients.
In 2016, the aviation profession honoured Liz for her contribution towards training doctors in aerospace-related medicine. She was the winner of the Improving Safety in Medicines Management category in the Patient Safety Awards 2013.
She has held a number of national roles including chair of Academic Careers and Research Evidence.
---
Julian Hobbs – Medical director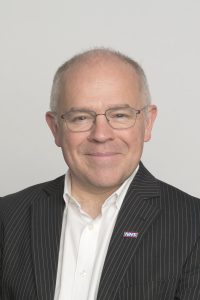 Julian has joined us from Royal Liverpool where he has been deputy medical director and has been since 2013. Julian is also a deputy medical director and leads on Mortality for Cheshire and Merseyside area team at NHS England.
Julian is a consultant cardiologist by background and has worked at Liverpool Heart and Chest Hospital alongside his current roles.  Julian has had extensive experience in medical management roles for several years. He grew up in the Midlands area and is looking forward to returning, and hopes to fit in some running and cycling in Cannock Chase.
Julian said, "I am looking forward to being part of a Trust that is so well known for delivering safe and effective care and I am keen to get out and meet as many staff as possible. I am looking forward to being part of the new Electronic Patient Record project which will make systems more efficient and release more time for patient care."
---
Gary Crowe – Non-executive director and deputy chair
Gary was most recently a university professor of Innovation Leadership at Keele University Management School. He previously held senior commercial positions in strategy, business transformation and risk & financial management as a director and management consultant in the financial services sector.
Gary holds a number of external board appointments, and has served as an independent non-executive director with another NHS trust since 2015. He is a qualified chartered banker and fellow of a number of professional organisations and learned societies.
---
Karen Kelly – Chief operating officer and deputy chief executive
Karen joined us in January 2018 from Barnsley Hospital NHS Foundation Trust where she held the post of executive director of operations.
A graduate of Keele University, Karen qualified as a nurse in 1993 and worked for more than 23 years at the University Hospital of North Staffordshire where she held a variety of roles including the first matron role for Urgent and Emergency Care before moving into managing the Directorate of Emergency Care.
Prior to joining us as a COO Karen has been involved in overseeing a range of large scale service developments and improvement projects.  She became part of the transformation team tasked with turning around Mid Staffordshire NHS Foundation Trust – becoming head of nursing there in 2010.  Following this, she held the post of medical nurse director, followed by deputy director of operations at The Royal Liverpool and Broadgreen University Hospital Trust.
Karen is passionate about leadership development and working alongside people to promote quality of care being delivered that ensures our patients are safe.
---
Catherine Holland – Non-executive director
Catherine is a writer, speaker, coach/mentor and facilitator, developing the practice of senior leaders. A member of the Golden Egg Academy, she is currently writing a children's book.
Catherine is an associate consultant with 'Amara Collaboration', a contributing author to' Street Smart Awareness' and 'Inquiry in Action'; and co-designer and facilitator in transformational leadership development retreats.
A former social worker and trainer and assistant director in social services, Catherine worked for 14 years in the Probation Service, first as a director for corporate services and later as chief executive of Staffordshire and West Midlands Probation Trust, the second largest probation trust in the UK.
Catherine designed and led West Midlands Probation through a successful performance and culture turn-around programme, and project managed the merger with Staffordshire Probation, the new Trust going on to be recognised for excellence and awarded four stars by the British Quality Foundation.
Catherine led SWM Probation Trust through extensive and challenging changes brought about by the Government's Transforming Rehabilitation programme, becoming chief executive of Staffordshire and West Midlands CRC, and later the newly formed Reducing Reoffending Partnership.
---
Mary Sexton – Chief nurse and deputy chief executive  
Mary joined the Trust as interim chief nurse in January 2019 and became substantive in November 2019. An experienced corporate lead for nursing, quality and governance, she brought with her more than 15 years' experience at executive level.
Mary is an experienced nurse leader, with a wealth of experience in providing robust oversight of the nursing, midwifery and AHP workforce resulting in an improved patient and staff experience. She has extensive experience in service transformation and professional standards as well as the delivery of compliance with regulatory standards and effective governance to support learning.
Mary, who began her career as a nurse at East Surrey Hospital in 1983, has worked in a variety of settings including acute, community and mental health at local and regional level.
In addition to her chief nurse role Mary is the Trust's director of infection prevention and control and our executive lead for safeguarding and is our maternity safety champion.
---
Kevin Stringer – Chief financial officer
We are pleased to announce that Kevin has joined the Trust as interim director of finance while we recruit to the substantive post. Kevin is a qualified accountant with the Chartered Institute of Management Accountants (CIMA) and holds a Masters qualification in Business Administration (MBA). With more than 33 years' experience in the NHS, and 20 of those years as a Board director, he has experience of commissioning and provider organisations.
Kevin's finance director roles have been with North Birmingham PCT, a post he held for two years; Birmingham Children's Hospital for five years and The Royal Wolverhampton NHS Trust where he has worked for 13 years. He has also held roles within regional, commissioning and mental health.
---
Julian Atkins – Non-executive director
Julian joined the Trust in January 2016 as a non-executive director and is currently deputy chair. He has experience in both the public and private sectors, having worked at organisations such as Alliance & Leicester, Marks & Spencer, Solihull Health Authority and the Thomas Cook Group. Prior to joining the Trust, he was part of the executive leadership team and head of human resources at Coventry Building Society, where he worked for nearly 25 years.
Julian is a Fellow of the Institute of Financial Services and the Chartered Institute of Personnel and Development. He is board chair of Coventry and Warwickshire Chamber of Commerce's subsidiary training company, a non-executive director at ENTRUST in Leamington Spa and is a past president of the Coventry and Warwickshire Institute of Financial Services.
Julian chairs the Charitable Funds and Workforce & Staff Engagement committees and is a member of the Audit and Clinical Quality, Safety & Patient Experience committees. Julian is passionate about delivering excellent customer service through skilled individuals and effective teams.
---
Vij Randeniya – Non-executive director
Vij is an experienced non-executive director within the health service. He is deputy chairman of Birmingham Women's and Children's NHS Foundation Trust and sits on the governing body of Aston University. Vij is a trustee of the Royal Society for Public Health and
former chief fire officer for West Midlands Fire Service. Vij has substantial experience of large-scale project management, leadership and change management. Vij was awarded the OBE in 2006.
---
Dr Thuvarahan Amuthalingham – Associate Non-executive director
Dr Amuthalingam is a general practitioner by training. Having completed his medical degree in London, he started his career as a junior doctor at The Dudley Group NHS Foundation Trust. He has since worked in the Black Country area. He has gone on to represent his colleagues in various roles both nationally and internationally.
Having led the Next Generation GP programme within midlands, he helped cultivate the next generation of compassionate leaders working in collaboration across primary and secondary care. Through his work on the RCGP Midland faculty board and as part of the Black Country and West Birmingham Training Hub, he supports newly qualified GP within the locality. As deputy chair of the BMA West Midlands Regional Council, he aims to be a voice for all doctors across all branches of practice within the region.
Both in his clinical leadership roles and as a strategy consultant, he has advised start-ups, investors, third sector organisations, educational institutions, the NHS and government. He is experienced in strategy and business transformation with a focus on digital delivery. He develops key strategic alliances and cultivates collaborative partnerships to deliver innovation.
---
Dr Gurjit Bhogal – Associate Non-executive director
Gurjit has enjoyed a portfolio medical career across primary care, secondary care and within elite sports medicine organisations. He is a consultant in Musculoskeletal, Sport and Exercise Medicine appointed to the Centre of Musculoskeletal Medicine at The Royal Orthopaedic Hospital, Birmingham in 2015, and is an active Sessional General Practitioner within the West Midlands. He sees physical activity as a vital tool that promotes health and wellbeing for the patients he cares for.
He also works part-time for Aston Villa Football Club and was previously on the medical panel for the England and Wales Cricket Board and worked as a Lead Physician for the England Men's Cricket Team. He was also appointed as the Chief Medical Officer for the 2017 ICC Champions Trophy and the highly successful 2019 Cricket World Cup, where he developed his strategic, governance and leadership skills.
He is a school governor of a primary school in Solihull and Trustee of the charity 'Mencap Heart of England'.
---
Kat Rose – Director of strategy and partnerships
Kat joined the Trust in April 2022, bringing with her more than 15 years of NHS experience in programme management, strategy implementation and delivering healthcare transformation.
Before joining the Trust, Kat held the role of programme director at Herefordshire and Worcestershire Health and Care, working on several million-pound projects. Prior to that she was associate director of strategy and planning at Shrewsbury and Telford Hospital NHS Trust where she worked closely with system partners and managed the strategy, PMO, improvement and planning teams. Prior to this she performed the same role at Birmingham Community Healthcare NHS Foundation Trust.
Kat began her career project managing large scale new builds for the NHS before moving into strategic planning and service transformation.
Kat lives in Worcestershire, just on the border of the Black Country, on her family farm and loves walking her dog in the countryside.
---
Andy Proctor – Director of governance
Andy is our director of governance. He joined us from University Hospitals of Derby and Burton NHS Foundation Trust where he was their director of quality, clinical governance, risk and compliance.
He started his NHS career in the Ambulance Service in 2005 and undertook a range of clinical roles as a paramedic and then later in his career became assistant chief ambulance officer and director for quality improvement at West Midlands Ambulance Service.
Andy has also worked with the Care Quality Commission for eight years being involved in 19 inspections. Andy has extensive experience within governance, compliance and regulation and is passionate about patient safety and ensuring we provide high quality care.
---
Professor Anthony C. Hilton – Associate non-executive director
Anthony joins us from Aston University where he is currently Pro-Vice Chancellor and Executive Dean of the College of Health and Life Sciences.
A microbiologist by background, Anthony has held academic posts at the University of Birmingham and Aston University.  Professor Hilton is a regular contributor to print and broadcast articles and has been recognised by several prestigious awards for his teaching and science communication activities.  He is keen to bring his experience of training healthcare professionals and collaborative clinical research to the Trust.
---
Jo Hanley – Non-executive director
Jo joined the Trust as a non-executive director in June 2023.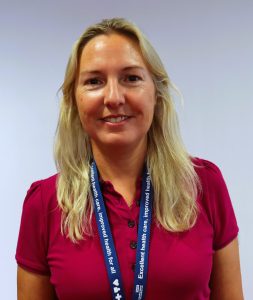 A graduate of the University of Edinburgh, Jo has held a range of senior leadership positions across the Commercial Banking, Group Operations and Wealth/Private Banking divisions of Lloyds Banking Group where she has worked for some 20 years. Jo currently leads the Data Office for the global Corporate Markets business, prior roles include leading risk, customer servicing and operations functions and also delivering large scale transformation and integration programmes. Prior to joining Lloyds Banking Group, Jo worked at the Black Country Chamber of Commerce advising businesses to trade internationally. 
Jo has significant global experience having lived and worked in Belgium, the Netherlands, Spain and the United States in addition to working across Asia and Latin America. Jo has expertise in establishing and leading centres of excellence/shared service functions and outsourcing arrangements, strategy development, delivering regulatory change in addition to business and service improvement.
Jo is a diversity and inclusion advocate, currently co-chairing the Midlands Branch of Women in Banking & Finance (Social Enterprise) and is passionate about supporting and enabling people to realise their potential. Jo has a strong connection to Dudley having grown up in the area.