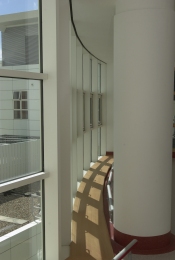 Summit Healthcare, in partnership with its service providers, Interserve Facilities Management and Siemens, is delivering one of the UK's largest and most comprehensive facilities management portfolios in PFI healthcare.
Summit's facilities partner, Interserve, has so far instigated reviews of a number of its activities and is implementing a service enhancement initiative, Project Apollo, to evolve and better align with Trust requirements their service activities. It has been particularly rewarding to observe how clinical staff have embraced this process improvement initiative in workshops focusing on maximising efficiency in theatres. The intention is to broaden the application of this initiative to achieve other benefits for patients.
More visible changes have also occurred in the year including an attractive refurbishment of the restaurant at Russells Hall Hospital and the introduction of Costa Coffee. Interserve is promoting healthy eating for patients, staff and visitors and has completed the groundwork for the first hospital based Food for Health Award in the area.
Under the partnership, all hospital residences across the three sites have been upgraded to three-star accommodation, theatre efficiency has increased as a result of a 20 per cent improvement in porter response times and the Trust's PEAT status has risen from acceptable to good.
Importantly, a recent survey shows that 91 per cent of patients would recommend Russells Hall Hospital to friends and relatives.
Chairman of Summit David Poynton said all of the PFI partners were focussed on helping the Trust achieve outstanding clinical services.
"While we've taken huge steps forward, one of our main objectives is to become even more efficient," he said.
"We're supporting the Trust's ambition to become a 'hospital of choice' by continuously improving our services and we're constantly looking at ways to reduce our carbon footprint and raising overall efficiency levels.
"Together with our partners, we are firmly focussed on providing world-class support services freeing up the Trust to concentrate on what it does best – delivering outstanding clinical services."