The Trust holds regular free events for members, including tours of our facilities, health fairs featuring presentations and displays from services across the Trust and talks from the Foundation Trust Governors to local groups who want to find out more about the work of the Trust.
Contact the Foundation Trust office is there is any specific topic you would like to see featured at an event or if you would like our Governors to come along to speak to your group.
Events
18th July 2019 – Annual Members Meeting.
Click here for the agenda and papers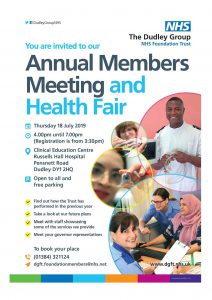 For more information, please e-mail enquiries to dgft.foundationmembers@nhs.net or call (01384) 321124.