The Trust holds regular free events for members, including tours of our facilities, health fairs featuring presentations and displays from services across the Trust and talks from the Foundation Trust governors to local groups who want to find out more about the work of the Trust.
Contact the Foundation Trust office on 01384 321124 if there is any specific topic you would like to see featured at an event or if you would like our governors to come along to speak to your group.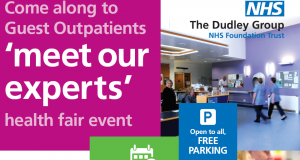 Events
We are thrilled to announce that are to hold a series of Meet the Experts events scheduled for the coming months.  This will provide an exciting opportunity for you to learn more about the amazing teams that provide clinics and services at the Trust along with some non-clinical teams that are essential in providing support and facilities.
Booking is via the Eventbrite site and all events are from 5.30pm (registration desk open from 5pm) and run for two hours or so.   The details of the forthcoming events are:
Date
Venue
Showcasing
23/10/19
Corbett Outpatients Centre

Opportunity for members of the Trust and the wider public to go behind the scenes and learn more about the wide range of outpatient services provided at the centre and day case surgical work undertaken

13/11/19
Guest Outpatients Centre

Opportunity for members of the Trust and the wider public to go behind the scenes and learn more about the wide range of outpatient services provided at the centre

11/12/19
Russells Hall Hospital – Clinical Education Centre

Opportunity for members of the Trust and the wider public to go behind the scenes and learn more about GI services and other associated services.  To include presentations as well as behind the scenes tour to GI and other departments.

The following are still to be finalised for 2020
26 February 2020
Community – Brierley Hill Health & Social Care Centre

Opportunity for members of the Trust and the wider public to learn more about the wide range of adult community services provided by the Trust and the Multi-specialty Community Provider (MCP).

May 2020

Russells Hall Hospital – Clinical Education Centre
End of life and palliative care services